It was an exciting evening at the 2010 Academy Awards. Tribute was paid to stars past and present on a stage illuminated by thousands of blue lights. The John Hughes tribute brought back high school memories. Steve Martin and Alec Baldwin were hilarious. We were thrilled for the win of the first female director – congrats Kathryn Bigelow!
But while we were interested in the Academy's movie choices, we were really watching for the fashion. It's always fun to see what the stars are wearing. This year, the red carpet was full of gorgeous gowns that epitomized Hollywood glamour. We saw lots of strapless dresses, lots of sparkle and lots of ruffles. Loose curls and soft updos were the hair trends. While makeup was sheer and pretty, accentuated by the occasional bright red lip.
Our Favorites: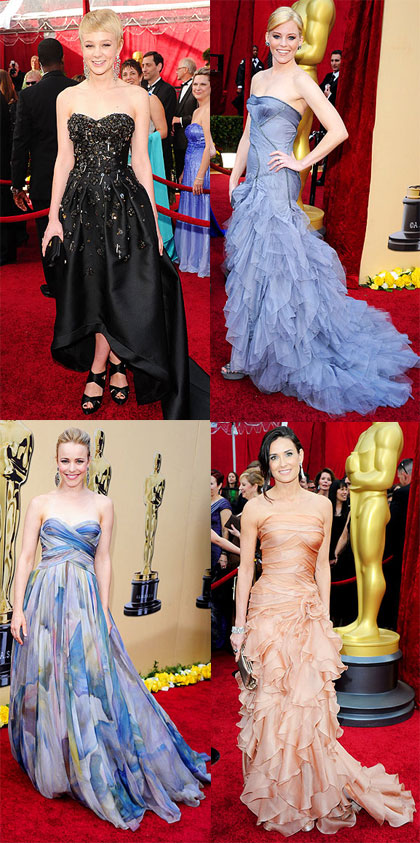 1) Carey Mulligan: Our pick for Best-Dressed, Best Actress nominee Carey Mulligan wore a fabulous black Prada creation. Tiny knives and scissors dangled with plenty of sparkles on this strapless dress; while a train and black heels completed the look. Although the actress commented that she did not like her hair, we think the cut went perfectly with the outfit.
2) Elizabeth Banks wore a stunning grey chiffon Versace gown. A fitted drop-waist bodice met a waterfall of ruffles. We loved her elegant earrings and sparkly narrow headband.
3) Rachel McAdams: This lovely presenter was simply stunning in her painterly Elie Saab dress. Muted blues and greys covered the sweeping gown. This was one of our favorites because of both the ethereal style, but the beautiful print. She kept her accessories to a minimum which only added to the beauty of her look.
4) Demi Moore: Demi's strapless Atelier Versace gown was made up of peachy ruffles that flattered her tan skin.
Least favorites: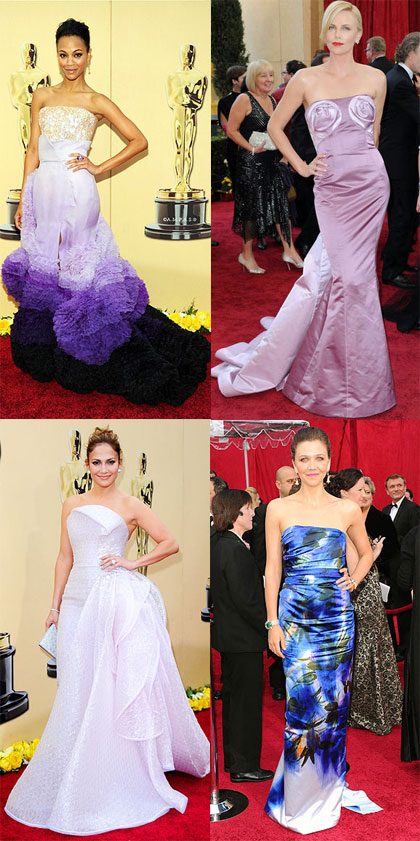 1) Zoe Saldana: The purple ombre Givenchy Haute Couture by Riccardo Tisci gown will either be loved or hated. We loved the color, it looked great on the Avatar actress. But the ruffles were over the top and seemed to contrast too much with the bodice of her dress.
2) Charlize Theron: Probably the most talked about dress on Twitter, Charlize Theron's Dior gown had a pretty column shape, but ended up being a miss with it's oddly placed satin flowers. They made it hard to notice her pretty makeup – a nude eye and red lipstick.
3) Jennifer Lopez exuded confidence in her powder pink Armani Privé gown. The awkward folds and puffiness were too much for us, and did not pair well with her messy bun.
4) Maggie Gyllenhaal While we applaud Miss Gyllenhaal for wearing a print, the dress simply did not work. Though we are normally huge fans of Dries van Noten, this gown appeared wrinkled and unflattering.
Trend: Gold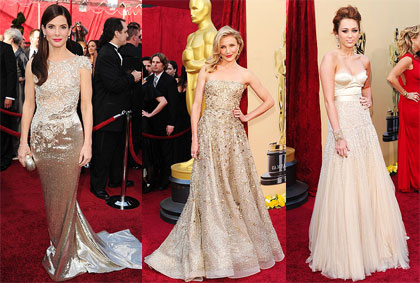 1) Sandra Bullock: We were thrilled that Sandra Bullock won for best actress for her role in The Blind Side. She is a classic beauty who was glowing with happiness at the Oscars. We weren't in love with her Gold Marchesa dress, but it did have some pretty lace details that we liked. Her hair and makeup were flawless.
2) Cameron Diaz: In a gold Oscar de la Renta gown and dripping in Cartier diamonds, Cameron Diaz exuded glamour. Her 40's inspired makeup complimented the look well.
3) Miley Cyrus: Miss Miley is usually not on our best-dressed list, but this time we were on the fence. The overall look was too old for her, she looks better in something more youthful. The bustier on the strapless Jenny Packham gown appeared too tight. However, the dress scored more points with us as it sparkled onstage.
Trend: Red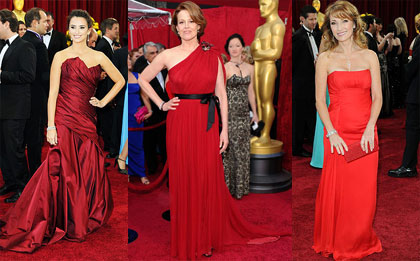 1) Penelope Cruz wore a ruby red Donna Karan gown seemed made for the striking actress. The strapless pleated dress flattered her figure, and was totally appropriate for the occasion. She looked amazing and pulled off the messy updo perfectly.
2) Sigourney Weaver Avatar actress Sigourney Weaver wore a deep crimson Grecian-style dress by Lanvin, accented with a black ribbon belt. The one-shouldered gathered dress was adorned with a beautiful jewel-encrusted brooch. She looked radiant.
3) Jane Seymour jumped on the red trend as well with her strapless red column dress. Softly curled hair and a long diamond pendant completed the look.
Trend: Pink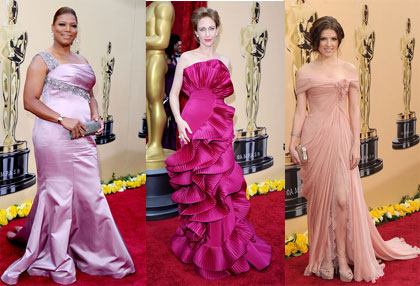 1) Queen Latifah looked fantastic at this year's Oscars. Her dusty rose one-shouldered gown was done up in plenty of jewels. Simple accessories and clutch completed the look.
2) Vera Farmiga: Best Supporting Actress nominee Vera Farmiga is a natural beauty. She wore a bright pink ruffled Marchesa gown and jewelry by Fred Leighton. Her messy updo was on trend. She was fabulous in her role in Up in the Air, but unfortunately, her Oscar dress was not. It looked uncomfortable, and the ruffles were too over done, especially with such a bold color.
3) Anna Kendrick: Another Best Supporting Actress nominee, Anna Kendrick, glowed in a blush pink Elie Saab gown. Gathered soft ruffles and lace accented by a flower detail, made this goddess-like gown a beautiful creation. Trend: One-Shoulder
1) Molly Ringwald: An all-time favorite, we loved her purple one-shoulder gown. The brooch at her waist and bracelet were a little much, but the overall look was lovely. While we saw more strapless dresses this year, Molly proved that the one-shoulder look is still going strong.
2) Tina Fey: Tina Fey wore her sheer leopard print Michael Kors well with simple accessories and a flattering cinched waist. We got a kick out of her presentation speech with Robert Downey Jr. Much like peers Queen Latifah and Sigourney Weaver, Tina's one-shouldered look was perfectly on-trend.
What did you think of this year's Academy Awards? Who did you think was the best and worst dressed?
*Images from Pop Sugar & People Style Watch*