It's the time of year when layers are essential to your wardrobe. Tons of cold-weather accessories are selling all over. But cozy layering pieces need not be expensive. Here are seven items you need in your winter wardrobe to help beat the chill this winter. Each piece is moderately priced under $100: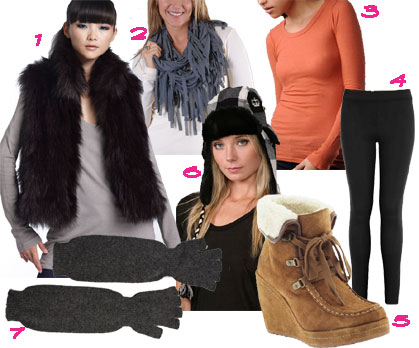 1) Faux Fur Vest: Members Only Faux Fur Vest, $98. A faux fur vest is the it piece this season. It instantly adds warmth and style to your outfit. Wear over a long-sleeved tee and jeans.
2) Scarf: Fringe Infinity Scarf, $24. You really cannot go wrong with any scarf. Top off your outfit with this final layer and arrange according to your mood.
3) Long Sleeved Tee-Shirt: James Perse Long Sleeve Nylon Cotton Rib Jewel Neck T-shirt, $75. Stock up on these great layering basics. You'll find a fitted tee works well under sweaters, vests and jackets, as well as under a looser tee.
4) Double-Knit Leggings: Heavy Weight Ponte Leggings, $98. Heavier and thicker than regular leggings, double-knit leggings give you more coverage while keeping you warmer.
5) Winter Boots: Rocket Dog Bonfire Boot in Chestnut, $90. Winter boots do not have to be Uggs! These warm ankle boots lace up and look super cute with jeans tucked in.
6) Hat with Ear Covers: Juicy Couture Buffalo Check Trapper Hat, $95. Trapper hats are not only fun to wear, but they keep your ears warm. This one has a cool print and faux fur for extra coziness.*
7) Fingerless Gloves: Carolina Amato Cut Fingers Lambswool Glove in Sidewalk, $30. Gloves are a necessity in the cold, but sometimes make it hard to do things. We are fans of this fingerless version – keeps hands warm while giving your fingers freedom to move.
*For more cool Trapper Hats and how to wear them, check out this post by the lovely Bryna at Mamasarollingstone.com!
What are your cold-weather essentials?