From our friends at The Find: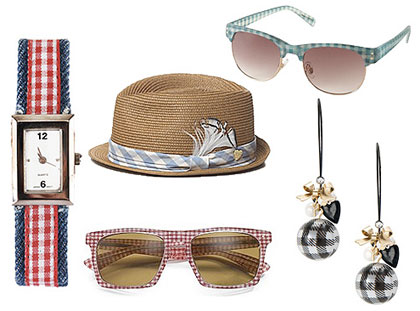 When you're not scoping out the season's colors of the moment — from bright pops of coral and stark summer whites to funky color-blocked sheaths — it's hard to ignore the season's love affair with bold prints. Well, despite what you're used to, it's time to trade your sexy snake prints and sultry leopard for something sweet and summery like gingham! It's a little country and a whole lot seasonal, but with this summer's modern takes on the print, you won't feel like you're going to a hoedown just by throwing on one of these cute gingham-emblazoned accessories! Sure, it may remind you of the table cloth at your recent Fourth of July barbecue, but that's part of the fun. It's flirty, it's festive, and in small doses (like a cool pair of shades or cutesie drop earrings), it's easy to pull off without looking too costume-y or cheesy! So invest in some subtle but cute gingham pieces to jazz up your go-to summer ensemble, pack up a picnic, and jam to some of your favorite country tunes and you've got yourself a festive summer afternoon in style!
Pictured above: American Apparel Vintage Rectangular Gingham Skinny Watch, Juicy Couture Straw Fedora with Gingham Band, Mosley Tribes Lyndel Sunglasses, Gingham Top Frame Flat Top Sunglasses from Topshop, and Betsey Johnson Gingham Bead Drop Earrings.
– Alex Gambardella