From our friends at College Candy: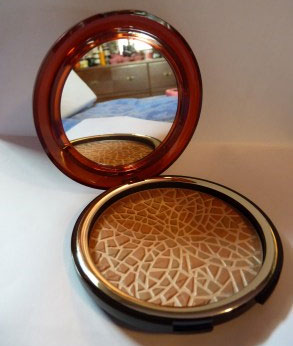 What It Is: Clarins Mosaique Bronzer
Why This Should Be in Your Bag:
Bronzer is a summer necessity, as far as I'm concerned. Even if you're a pale lady, like me, you can fake a golden glow with the right bronzer and application. Bronzer is also essential for contouring your face and making your gorgeous features just pop! I've been using bronzer since my first foray into makeup and consider myself to be somewhat of an expert.
Clarins is a great, high-end brand that pumps out quality products but sometimes flies under the radar. However, with their Mosaique Bronzer for Summer 2011, they are sure to hit center stage. I mean, look at it – stunning!
How To Use It:
Like I said, bronzer can be used to add overall warmth by gently buffing it over on your cheekbones, forehead and nose. I prefer to use a giant kabuki brush to ensure even application and a light touch. However, you can also use bronzer to contour. Begin with a contouring brush (available from almost every major cosmetics brand) and swipe the bronzer into the hollows of your cheeks. Can't find them? Make a fish face and observe the hollows it creates – apply bronzer there! I also apply around my hairline and on the side of my nose (lightly!) to slim. Get another brush, preferably a fluffy one, and buff the bronzer so it's not too obvious.
Find what grade Clarins Mosaique Bronzer gets from College Candy!