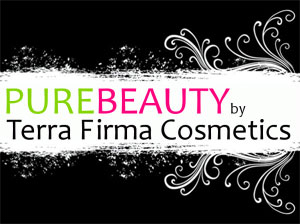 Wouldn't it be great if all makeup was safe and natural? After all, most of us wear it every day! Many companies make natural makeup, but it's not every day that you come across something that truly works. I wanted to fill you in on a line of natural cosmetics that I am loving right now.
Terra Firma Cosmetics was started by sisters Dori Patrick and Meri Yardley in 2004. Founded on the idea that makeup should be safe and healthy, Meri and Dori created a line of mineral makeup that includes everything from eye shadows to lip glazes. They also offer skin, bath and body care products. Every item is made locally in Washington State, and includes natural ingredients you can feel good about using. Terra Firma has managed to offer beautiful cosmetics free from things like chemical colorants, wax, talc, parabens, silicones, or fillers. They have also signed with SAFECOSMETICS, promising to create beauty free of potentially harmful ingredients.
Some of the products also contain natural silk, a fibroin, which gives skin a lustrous glow and helps diminish lines and imperfections. Plus, the prices are unbelievably good. I received some lovely products from Terra Firma, and have been using them for a few weeks now. I'm thrilled with the results and excited to share with you! Here's what I tried: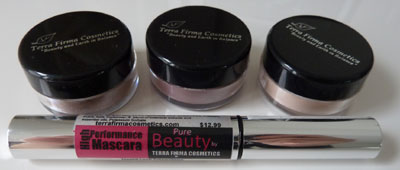 Loose Mineral Eye Shadow, $8.99
The first thing I noticed about these shadows was the consistency – a very fine shimmery powder, which feels super light to the touch. They also glide on smooth, blend well and deposit a good concentration of color so you don't feel like you have to keep getting more on your brush. Available in tons of pretty shades, Loose Mineral Eye Shadows not only work as shadow, but as eye liner, brow color, lip color, cheek color, and even nail color. Always love a product that does double duty! I tried three colors: Chocolate Diamonds which was a shimmery brown plum; Fig, a deep purple; and Beach Bum, a very light peachy pink. The Beach Bum is great as an eye shadow base as well as for highlighting. I've been having fun wearing Fig and Chocolate Diamonds – They both work well with the plum eyeliner I use, and I like that you can layer the shadows to develop the deepness of color that you want. Haven't tried to use them wet yet, but I would imagine the color gets only more vibrant.
"Stacked" Natural Mascara, $12.99
I've tried a ton of mineral mascaras only to be disappointed with the results. This stuff is different! Terra Firma's Stacked Natural Mascara goes on without clumping and deposits a thick layer of pigment on lashes, without looking overdone. I am not very well endowed in the lash department, so a good mascara is key for me. I am truly happy with this one and especially pleased that it's safe to use. The formula is fortified with proteins and vitamins – "Lash Fertilizer" as they call it – which helps lashes stay strong and healthy. You can achieve a longer lash look by sweeping on multiple coats of mascara. Plus, the formula has a pretty scent to it.

Longevity Lip Stain, $14.99
A lip stain made with natural fruit & vegetable colorants? Yes ma'am! Again, loving the consistency here. The formula glides on smooth and feels great, no stickiness whatsoever. The color I tried, Primrose, is a light pinky rose. It's a bit light for me – I ended up having to layer on multiple coats. But, I think a shade or two darker would work great for my skin tone. I still wear this every day as a base to my lip color. The formula is 88% Organic, paraben free and free of toxic ingredients like Propylene Glycol, Mineral Oil and Petroleum.
Honey Lip Glaze, $9.99
This little tube of lip color is lightly flavored with honey, which keeps you wanting to reapply. Pink-A-Boo is a light, girly pink that would work well with multiple skin tones. It is thicker than many glosses, but doesn't feel heavy at all.
Overall, I totally recommend the line. There are still a few products I'd like to try, like the mineral foundations and blushes, as I am sure I'd be happy with the results. Terra Firma Cosmetics are available online at TerraFirmaCosmetics.com or at local boutiques across the US. Today and tomorrow you can buy a $50 Terra Firma Cosmetics gift certificate for only $25! See site for details.