If you haven't shopped e.l.f. (eyes lips face) for cosmetics you should definitely give them a try. We could literally spend hundreds of dollars shopping this site as there is so much to choose from. But the great thing is that you don't need to. Most products are around $1. Their Studio line goes for about $3 and makeup sets are around $10. You can't even get those prices on drugstore beauty products. But you don't have to sacrifice quality and results for a lower price point. e.l.f.'s goal is to enable all women to look their best and not have to sacrifice luxury, quality ingredients or good results.
Products are made from high-quality ingredients. They do not test products on animals, nor use animal-derived ingredients in their products. Additionally, all products are hypoallergenic and non-comodogenic.
For the price of one department store mascara, we found a slew of pigment packed cosmetics and makeup tools that we think you'll love. Thirteen to be exact.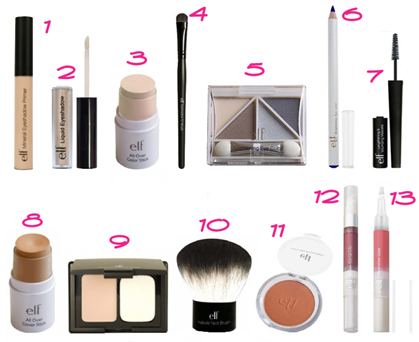 Eyes:
1) Eyeshadow Primer, $3
2) Liquid Eyeshadow, $1
3) All Over Color Stick in Spotlight, $1
4) Eyeshadow C Brush, $3
5) Brightening Eye Liner, $1
7) Lengthening & Volumizing Mascara, $3
Face:
8) All Over Cover Stick, $1
9) Translucent Matifying Powder, $3
10) Kabuki Face Brush, $5
11) Healthy Glow Bronzing Powder, $1
Lips:
12) Luscious Liquid Lipstick, $1
13) Hypershine Lip Gloss, $1
*This post contains affiliate links. See our disclosures for more info*