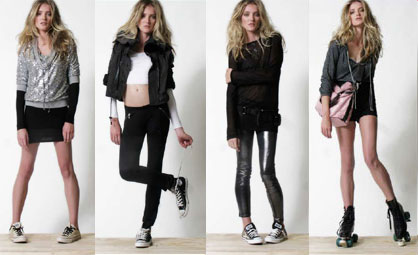 Next month Bebe's much anticipated PH8 line will hit store racks. Taking a departure from Bebe's Sport collection, the PH8 (pronounced "fate") line is a bit edgier, but still has a loungewear feel. Think Norma Kamali for Everlast or Stella McCartney for Adidas. And Bebe Sport fans, do not fret, Bebe Sport items will still be available in select stores.
The PH8 line consists of pieces that are less about logos and more about urban chic. Sequins, shimmery leggings and edgy draping all mix together to become a wearable, sporty line, perfect for everyday casual wear. We are loving the sequin drawstring sweatshirt, shimmery leggings and bib necklaces. All pieces that can easily be incorporated into your wardrobe.
Here's a YouTube video shared by PH8 President, Tara Poseley, which gives you an idea for the vision of the line.
PH8 will hit stores nationwide on November 14th. Follow PH8 on Twitter for special discounts and updates!
Tell us: What do you think about the PH8 collection?
*images from PH8 lookbook*