I found my next handbag at Luna Boston today…One of the latest in Monica Botkier's handbag collection is the Logan Satchel. Glazed burgundy leather is adorned with antiqued brass hardware and leather tassels. Tons of zippered pockets hold all the essentials. I especially love the option to wear as a handled satchel or use the shoulder strap. The Logan Satchel measures 16″w x 11″h x 5″d, and has a 4.5″ handle drop and a 16″ shoulder strap drop. At $595, this is a gorgeous handbag that will last many seasons!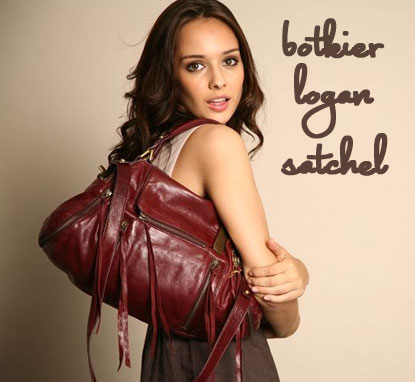 According to Luna Boston, Ms. Botkier took inspiration for the bags in her latest collection from a pair of black leather motorcycle pants. All the bags are nothing less than chic!

Bonus: Purchase any Botkier handbag from Luna Boston and receive this limited edition glam leather flower wristlet from Botkier (a $95 retail value!). So cute – Can't wait to wear this! Enter code "rockerchic" at checkout. (While supplies last).