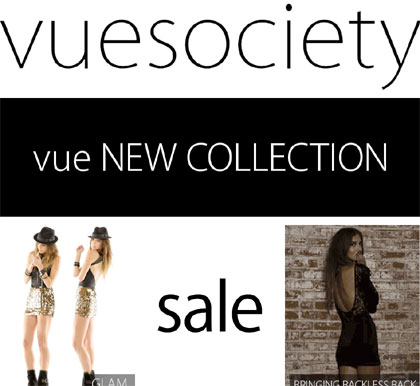 I always love to see someone following their dream. Fellow Seattle blogger, Rachel Kim has recently launched her online boutique, VueSociety. She's been writing her blog, by the same name, since 2008. Focusing on fashion from Seattle's east side neighborhoods, specifically Bellevue, Rachel quickly became a shopping and fashion expert.
VueSociety.com sells a curated selection of dresses, jackets, tops, bottoms, and accessories priced at $25 to $300. She's focusing on women's collections for now, but may potentially move into mens in the future. Lines like Boulee, Again, StyleStalker and other internationally imported designers will be represented. And don't worry about looking like everyone else – Rachel is keeping inventory tailored by offering pieces not available in other retail stores in Seattle. With her entrepreneurial spirit, Rachel is not only using her savvy fashion sense to keep Seattle dressed to impress, but she's donating five percent of all sales to a local non-profit organization, Washington Women In Need (WWIN).
VueSociety is participating in the Thread Show on October 23rd and the Holiday Bazaar at the Bellevue Club on November 5th.
Browse and shop online at VueSociety.com and get free shipping on all Washington State orders.