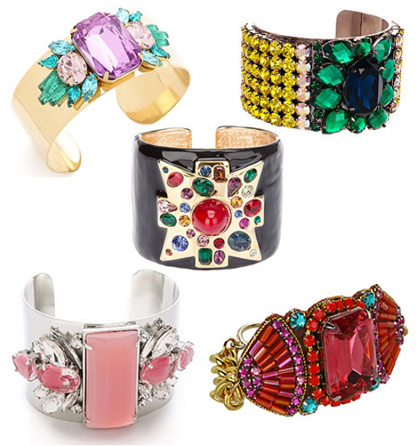 Last summer, bracelets totally ruled the accessories world. Fashion bloggers and aspiring style mavens alike were spotted piling on edgy takes on friendship bracelets with studded and spiked bangles, and other stackable pieces for the ultimate "arm candy" display. This summer, however, bracelets are just as statement-making, but in a decidedly bolder, standalone way!
Bejeweled cuffs
in all shapes and sizes are helping fashionistas get their bling on in the form of one central, eye-catching piece. From tribal-inspired starburst shapes to pretty pastels and even all-over rhinestones, it's officially your time to shine – even in the daytime! Give your bib necklaces a much-needed break and opt for letting your wrist do the talking, either on its own, or paired with some coordinating earrings!
Pictured above: Sandy Hyun Jeweled Cuff Bracelet, Kenneth Jay Lane Vintage Jewelled Cuff, ASOS Jewelled Cuff Bracelet, Noir Jewelry Barbados Square Cuff, and Ayana Designs Coral & Rose Bracelet Cuff.
– Alexandra Gambardella, The Find