With the focus of personal style being on what's outside, it's sometimes hard to remember to pay attention to what's underneath. As a mother of a toddler, with a baby on the way, I can tell you that my life gets busy – most days, my comfy cotton boyshorts take priority over my La Perla lace.
But it doesn't have to be so. While putting on a matching bra and panties might not change your life, it might change your mood. It certainly couldn't hurt. Think about it, you probably spend at least a few minutes each morning trying to decide what to wear. Why not be thoughtful with your lingerie?
Pretty lingerie doesn't need to mean uncomfortable or unattainable. High-tech fabrics are softer against skin. Designers are more conscious than ever about fit. Building a basic lingerie wardrobe is easy to do and starts with just a few key pieces.
The Basics:
Whether you need strapless bra for a cocktail dress or a t-shirt bra for a, well, t-shirt, these four basic bras should get you through most occasions. Pair them with matching thongs, briefs, boyshorts or hipsters and you are good to go.
T-Shirt Bra:

A t-shirt bra offers a smooth silhouette and is perfect under fitted tops.
Figleaves Basics Second Skin Microfibre T-Shirt Bra, $25
Figleaves Basics Second Skin Microfibre Shorty, $10
Convertible Bra: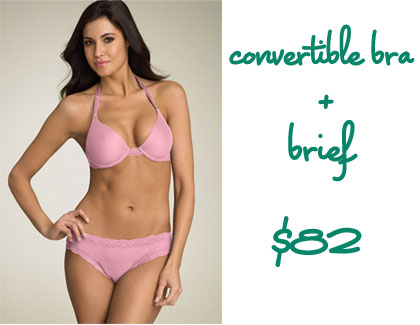 A convertible bra is the ultimate in versatility. Depending on the bra you choose, you can wear the straps as a halters, cross-back or one-shoulder.
Natori Sheer Scroll 131040 Convertible Plunge Underwire Bra, $58
Natori Sheer Scroll Shirred Panties, $24
Strapless Bra: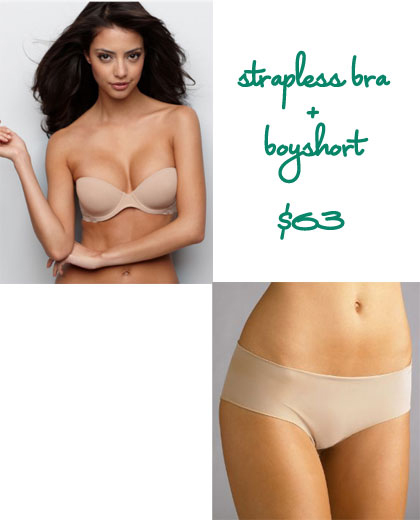 A strapless bra is an essential piece for strapless tops and dresses. Also perfect for lower cut tanks and tops that you do not want to worry about straps showing.
Calvin Klein Perfectly Fit with Lace Strapless Bra, $43
Calvin Klein Naked Hipster, $20
Demi Cup Bra: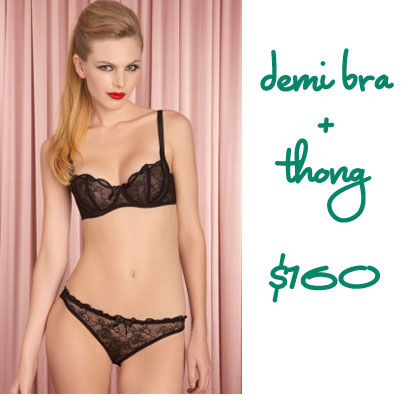 A demi cup, sometimes called a balconette bra, has cups that offer less coverage and shallower underwires. The flattering shape make these a good choice when a little extra lift or cleavage is wanted.
Love Demi Bra, $160
Love Thong, $90
Shopping Tip: When you buy a pretty bra, get matching underwear in a few different styles – i.e.: thong, brief, boyshort. This way, you easily multiply the number of matching sets you have without spending a ton of money. You are also not limited to wearing the bra with only one type of bottoms.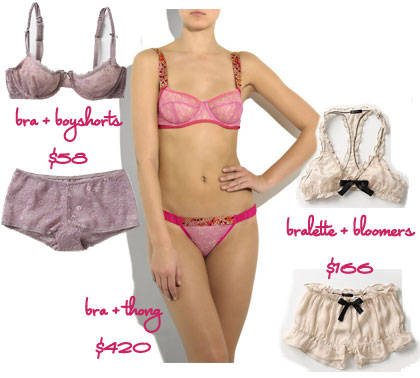 Color: Choose a set in a pretty color like lavender. Color is a great way to lift your mood.
Superlative Bra, $38
Superlative Boyshorts, $20
Glamour: For special occasions (or whenever you feel like it), it's fun to wear a really fabulous set, like this one with Swarovski crystals.
Damaris Alluring Swarovski-Encrusted Bra, $230
Damaris Alluring Swarovski-Encrusted Briefs, $190
Silk: With more relaxed, less structured clothing, a soft cup, silky bralette and bloomers are the way to go.
Wisp-Of-Silk Bralette, $78
Wisp-Of-Silk Bloomers, $88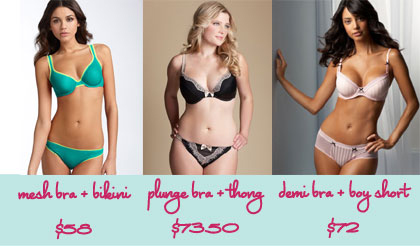 Mesh Fabric: Mesh is a sheer, breathable fabric. We love the On Gossamer sets in bright colors.
On Gossamer Mesh Bra, $42
On Gossamer Mesh Bikini, $16
Full-Figured: For more coverage and support, try a beautiful full-figured bra by Oola.
Oola Glamourous Satin Padded Plunge Bra, $50
Oola Glamourous Satin Thong, $23.50
Demi Bra: Another pretty set with a demi cup bra.
Betsey Johnson Stocking Stripe Lightly Lined Demi Bra, $48
Betsey Johnson Stocking Stripe Low Rise Boyshort, $24
*This post contains affiliate links. See our disclosures for more info*