From our friends at College Candy: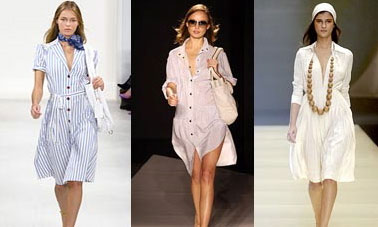 Shirt dresses are just about everywhere for Spring/Summer and this is one bandwagon I am ready to jump on. They come in different colors and styles so you can find the perfect dress that is flattering for your figure, your complexion, and your budget. You can wear them with leggings by day, or go for a sexier version for a night out. Basically, they've taken everything not cute about a man's button down shirt and turned it into a super-cute little number that looks sexy and flattering on every woman.
It's outfits like these that make me love being a girl. Well, that and the fact that I can spend a Saturday watching Disney movies and no one will judge me. But I digress…
The trend is nice because shirt dresses are cute and simple, yet you can still accessorize with fun shoes, jewelry, etc., for pops of color and individuality. So whether you're looking for a shirt dress for day, night, or something to wear from day to night, I've got you covered. Well, technically the shirt dress has you covered, but you know what I mean.
Shirt Dress By Day:
This little diddy is a personal favorite. It's got such great details: cute pockets in the front, an adorable bow in the back, and the perfect shade of chambray. Pair it with some white woven sandals and this amazingly affordable and adorable bag and you're ready to rock.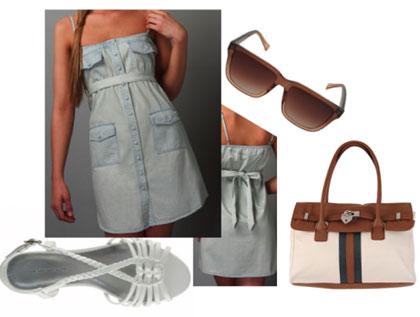 Shirt Dress: Lulus.com, $43
Woven Sandals: Payless, $19.99
Tote: Forever 21, $25.80
Sunglasses: Forever 21, $5.80
Shirt Dress By Night:
This dress is HOT. From the halter, to the collar to the way it goes in at the waste and still has a sexy mini skirt, it's a cut that is sure to be flattering on almost every figure. Pair with these fun patents and turquoise earrings (the red and turquoise combo is almost as amazing as coral and turquoise) and all eyes will be on you instead of the 5 million girls all wearing the same black dress.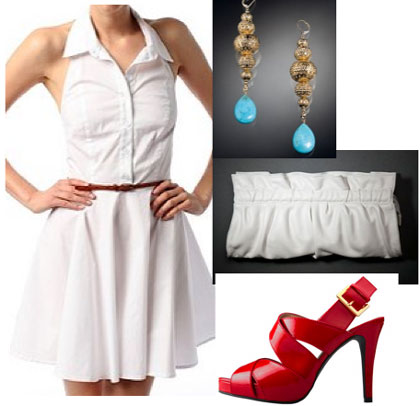 Shirt Dress: Urban Outfitters, $58
Patent Pumps: Payless, $26.99
Earrings: Express, $26.50
Clutch: Express, $20.65
Shirt Dress By Day or Night:
This dress has a fun vintage feel that can work day or night. Wear it with a pair of sandals or flats and an oversized bag for Sunday brunch, and then swap out for heels or wedges and a more formal bag for Sunday dinner with the 'rents.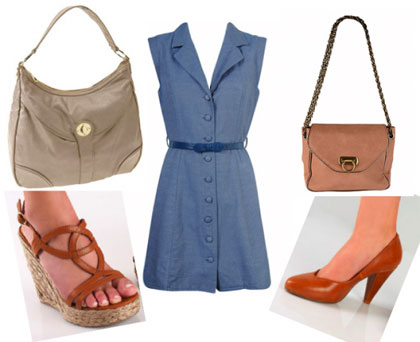 Shirt Dress: Forever 21, $22.80
Wedges: Soda on Lulus.com, $26
Pumps: Lulus.com, $53
Large Hobo Bag: Old Navy, $14.99
Small Shoulder Bag: Forever 21, $22.80