From our friends at College Candy: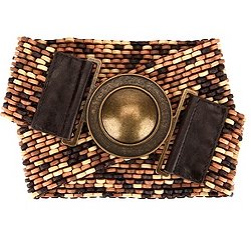 Getting dressed for a night out can be quite a conundrum. You don't want to get all decked out in sequins only to spend your night at some dive bar with hay and peanuts on the floor. But you don't want to throw on tattered jeans and a tee only to find out you are going to some swanky mcswankerson lounge.
And don't even get me started on dates. We all know the fear of being too overdressed (heels or flats? jeans or a dress?) only to wear the wrong outfit and feel silly.
Well no more. Thanks to this kick ass belt (I am a firm believer that big belts make everything better) we now have two trusty 'fits for those nights where anything goes. Both of these looks can be dressed up (with a quick swap of heels instead of those boots) and can be worn right into Spring. Because a stylista as budgety as yourself knows the importance of versatility!
The Big Belt With a Dress
If there's one thing I know it's that some things are worth spending on. And this belt is definitely one of them. It's versatile, it makes a statement and it's the perfect transition piece. The wooden beads scream summer, but the brown makes it heavy enough to wear now.
You can work this belt with just about anything, but I love it next to the bright hue of this dress. And have you seen the back? Hello there, sexy. Obviously the dress is great on it's own, but adding the belt and covering up that bow takes a simple sheath and make it a little less simplified. Throw in the hair clip and some flat brown boots and you're ready for some techno and an overpriced drink, or some 80s live-band-karaoke and a $2 beer.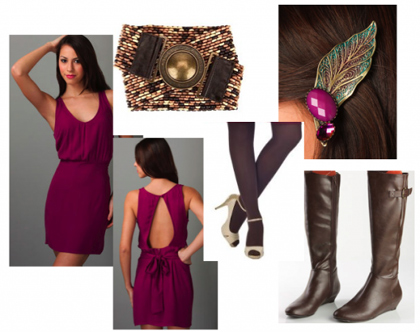 Belt: Urban Outfitters, $42
Dress: Lulus.com, $30
Boots: Lulus.com, $36
Tights: Target, $7
Hair pin: Lulus.com, $17
The Big Belt with Jeans
Wood, coral and turquoise may just be the best combination EVER. So obviously this is a look I am obsessed with. Throw a cardigan over the top for now and, come summer, swap out the boots for some flat woven sandals or cork wedges. This ensemble is easy and chic and just screams "Looking this good just comes naturally to me" and what better message could you send?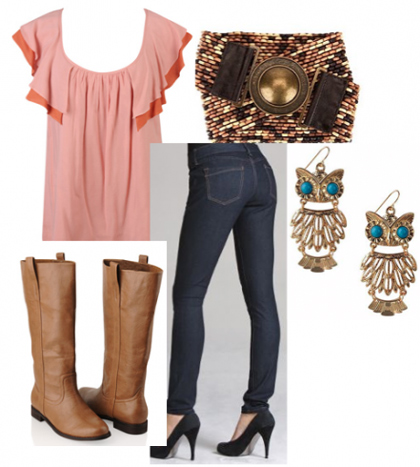 Belt: Urban Outfitters, $42
Top: Forever 21, $19.80
Skinny jeans: Express, $59.50
Boots: Forever 21, $38.80
Earrings: Forever 21, $4.80