From our friends at College Candy: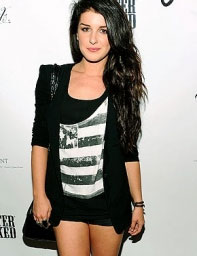 90210 starlet Shenae Grimes is an undercover fashionista. She's not someone who's all over the fashion rags or in red carpet photos, and it's not like 90210 ever got the same fashion cred that Gossip Girl ever did, so no one exactly goes out of their way to check out what she's wearing. That said, she has a really interesting, yet attainable style. She combines flirty, feminine, and whimsical pieces with darker, edgy, menswear inspired pieces to create eclectic, multi-dimensional looks.
I love that more celebs are rocking all black ensembles during the summer, while still looking breezy and comfortable. Shenae went for a basic black blazer, but since I'm sure we all have at least one of those, I chose a black lace blazer. It's a playful take on a staple, and it would be perfect for a summer night. Sequins are always an asset to any ensemble, and this fun tank is great for adding some glamour to your wardrobe, and Shenae layered her tank with a basic black tank underneath to continue the black motif. Naturally, her shorts and her bag are both black, and so are her adorable booties.
Find out how to get Shenae Grimes' look for less at College Candy!