As soon as the Barney's Coop catalog arrives, I take a few minutes to drink up the fashion. But when I saw the Spring/Summer 2010 catalog, I was extra impressed with the amazing hairstyles on the models.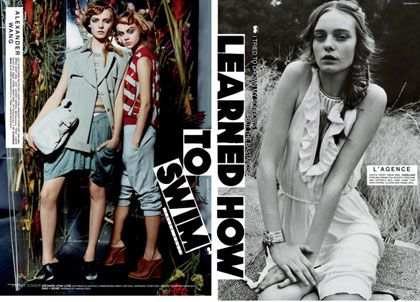 Fishtail and French braids fall in delicate swoops, while tropical flowers in every hue create ethereal headbands. Equally as stunning is the makeup. A nude face and lips are punctuated with pops of eye color that seem to accentuate the fun floral hairstyles. For others, the palate is more subdued, matte nude skin and eyes paired with bright red lipstick.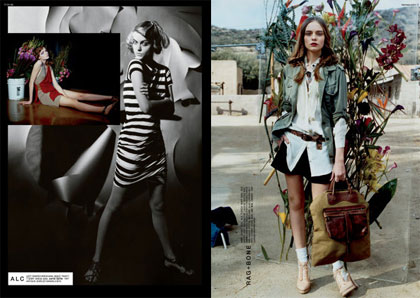 You may not venture out of the house with flowers in your hair, though wouldn't that be fun? But, you can certainly try some of these cute styles. We love how the hair is pulled back, away from the face, but still messy.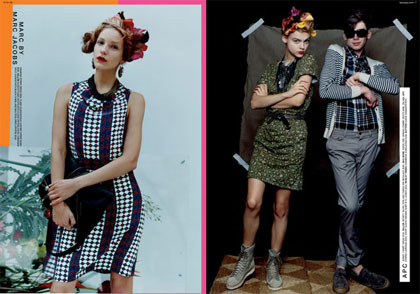 A word about the fashion – Skinny Cargo pants and military-esque chinos made the appearance multiple times – from designers like Theory, Current + Elliott, Joie and Vince. The key to getting the look right is to wear the pants fitted, not overly slouchy, sometimes cropped and rolled.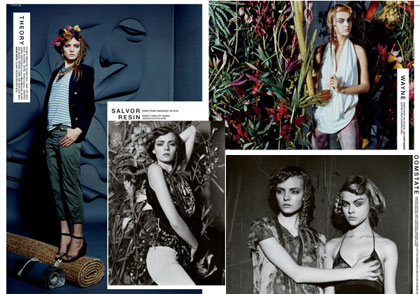 What do you think of these hair and makeup styles?