From our friends at College Candy: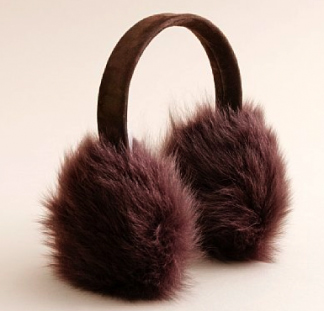 As much as I try to curb it, I am a bit of a style snob. On a daily basis I find myself thinking "Where's 'What Not To Wear' when you need them?" When winter comes, and the accessories get piled on, my judgment only finds more outlets to put in its two cents. A hat with bunny ears? Is that woman serious? And, whoa lady, that Russian hat looks like you wrapped some road kill around your head.
While I have this problem of critiquing outfits, I also am the first one to admit when I have judged too quickly. I've definitely made my share of decisions on how I feel about a piece of clothing or an accessory only to realize once I've considered it for a while that I actually feel much differently.
And, I have come to one of those realizations. My mistake? Ruling out earmuffs as horrible Princess Lea looking side buns that would only be appropriate if you found yourself in a tundra of some sort, completely unnecessary for the rest of us, walking to class or running around doing errands.
Of course, like any accessory, there are definitely some earmuffs that should never be taken out of the closet, but to rule them all out is a mistake. This change of heart partially came because it's been about 20 degrees outside and the wind-chill mixed with the snow had my ears feeling like solid ice cubes about to drop off the side of my head.
The second reason was a woman I saw hopping off the subway, dressed in a plaid pea coat and knee-high leather boots. She was totally put together, and, to my surprise, the puffy faux-fur ear muffs she was wearing looked totally chic and added a dose of sophistication to her already classy winter outfit.
I immediately went scouring the internet for a similar pair and found what I was looking for at J.Crew. Their Toscana Shearling Earmuffs come in a rich chocolate brown, and the suede band is super soft and doesn't leave your hair tangled and static-y.
The fact that these earmuffs are super cute (reminiscent of an old vintage pair I see my great grandmother wearing in pictures), and give me the ability to walk down the street without the wind-chill sending piercing pains down my ear canals is enough to change my vote.
The hats with the bunny ears flopping on top, however, still have some major convincing to do.