From our friends at College Candy: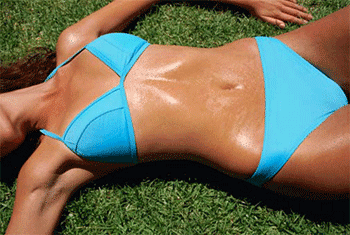 It's okay girls, count to ten and breathe. I know we all have huge under eye circles, our legs haven't been shaved in a good week and these study munchies are starting to catch up with our love handles. But on the other side of this pit of fire that is midterms is a glorious week-long party fest.
The lucky of the bunch are going to spend this week soaking up the sun and downing frozen cocktails. And obviously the perfect beach attire is a necessity. But it's so depressing opening up the catalogs and realizing that all the suits will cost you a couple weeks of happy hours, and are any of us really willing to give that up?
Luckily, we don't have to. Here are five suits that are not only adorable, but totally affordable on a college girl's budget. (And you can get them all in a week or less!)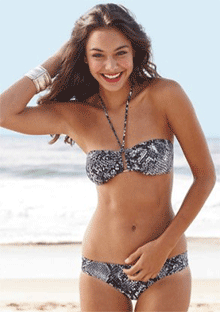 Snake Ring Bandeau Top and Ruched-Side Bottom from Alloy ($19.90 each)
The snakeskin print is a fun alternative to the typical flowers or polka dot print that fills the beach. And the peep-hole top with tie at the neck is the perfect blend of sexy and comfortable.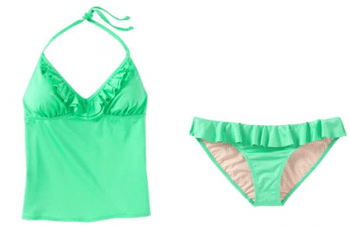 Mix & Match Ruffled Tankini from Old Navy ($19.50 and $16.50)
When it comes to swimsuits, Old Navy is the place to be. Not only because their stuff is cheap, but also because they have a great variety of pieces that you can mix and match as you please. I love the adorable ruffle detailing and the bright color of this set, but I also love that I can get another set (maybe a bikini? maybe a different color/pattern?) and mix them all together to create a ton of different options. And when I'm hitting the beach every day, a little variety goes a long way.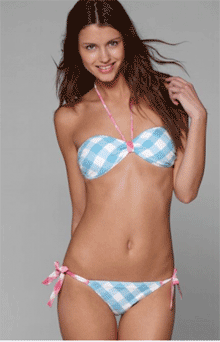 Plaid Halter Bandeau Bikini and Side-Tie Bikini Bottom from American Eagle ($24.50 each)
I am absolutely in love with this candy color combo; the bubble gum pink and baby blue suit reminds me of sexy Little Bo Peep.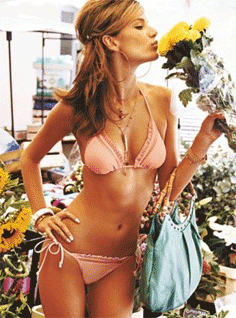 Ruffled Triangle Bikini Set from Victoria's Secret ($36.00)
Victoria's Secret gets the award for best swimsuits, hand's down. But their prices aren't always as friendly. Tip? Buy from the 2009 collection! Last year I splurged, and this year I cried when I saw my expensive designer swimsuit on sale for a quarter of the price. I am loving this peach colored string bikini with the demure ruffles; it is total sex kitten. (Though I don't recommend going to buy flowers without a cover-up.)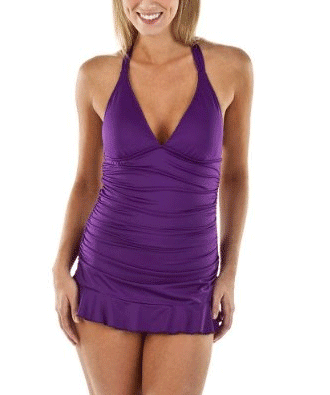 Mossimo Shirred One Piece Swimsuit From Target ($34.99)
With all the stick thin models flaunting their six-packs and double D's in every swimsuit catalog it's easy to forget that not everyone wants to wear two inch triangles over each nipple. This one-piece suit provides the coverage while still having sexy details: a flirty skirted bottom, halter-top, and slimming ruching. Plus the color will look H-O-T on that hard earned tan.