A cardigan is an important wardrobe staple. In these cooler months, it can be the perfect thing to layer your look. The fashionistas at College Candy scooped us on a whole bunch of cardigans – and they are cute! You are sure to find a few you love.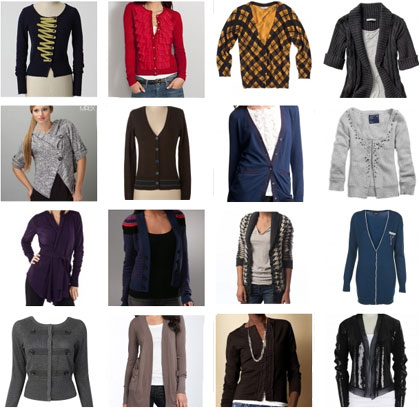 By the lovelies at College Candy:
We all have our own personal style. That's a fact. However, no matter what your style is, there is one staple that every college girl (and boy for that matter) should have in their closet – a cardigan.
While the cardigan can be associated with our favorite childhood neighbor, Mr. Rogers, the cardigan is no longer just for old men. A cardigan is easily the most versatile piece of clothing you can own. Chicer than a hoody, the cardigan goes with everything, be it with jeans or over a dress. This year is the perfect time to purchase a cardigan (or 20), as stores have pulled out all the stops. Name a trend this year, and you can find a cardigan that incorporates it. Of course, there's also basic cardigans in every color imaginable if that's more your thing.
So whether you're looking for sequins, plaid or ruffles, there's a cardigan out there for you. If only there were room in my closet for all 16 of these…