From our friends at College Candy. By Jill – University of Wisconsin
If there is one thing I hate about winter (unfortch there are hundreds of things I hate about winter) it would be that as I'm bundled in ear muffs, scarves, gloves, 10 layers of who knows what that is throwing my body into such a confusion because I'm sweating like a maniac under all that thermal but can't feel my nose or ears a the same time, stores, my FAVORITE stores, have the audacity to decorate their windows with eyelet lace dresses, high waisted shorts and canary yellow tops that scream: BUY ME!
It is January 2010 and I'm supposed to buy shorts?
But that dress, that top – they are just so. freaking. cute. So I cave and I buy them. And then I take them home and stare at them and even though know it's January (and my jeans are wet and frozen to the knee), I want to wear them!
So this week's Budget Stylista goes out to every girl like me who's trekked in sloshy snow to her favorite shop and couldn't stop herself from loading up on the spring styles. No more waiting 6 long, cold months to sport your new goods; I will show you how to wear them now without catching frostbite and then again once the snow (and your body) thaws out.
The Spring Dress
For Winter, take a pair of tights (black or gray for this dress) and pair with a long sleeve shirt worn UNDER the dress. I love the mint color long-sleeve shirt under this because it picks up the mint in the dress, but still looks wintery paired with black boots, gray tights and a dark gray cardigan. (If mint isnt your thing, black, white or gray work too!) Not to mention, the long-sleeve-under-the-strapless combo looks VERY Marc by Marc Jacobs. Throw on a cute chunky beret to keep your head warm and off you go, lighting up the snow filled streets with your spring/winter style.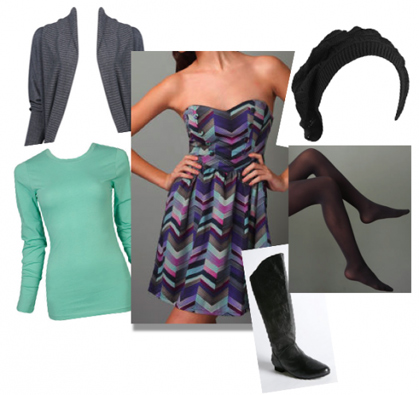 Dress: Lulus.com, $44
Tights: Lulus.com, $17
Boots: Urban Outfitters, $88
Cardigan: Forever 21, $15.80
Beret: Forever 21, $4.50
Long Sleeve Shirt: Forever 21, $5.50
When it starts to get warm (in, uh, 4 months), ditch the boots for these super cute flats, throw on a springy necklace and show off those collarbones you've been hiding all year!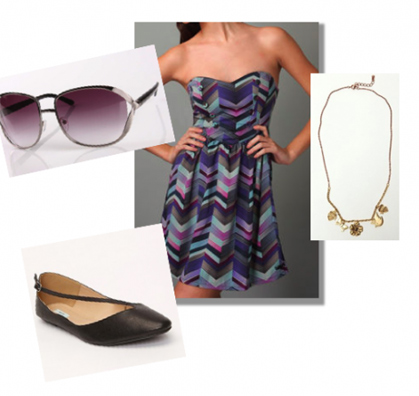 Dress: Lulus.com, $44
Flats: Urban Outfitters, $28
Necklace: Urban Outfitters, $28
Sunglasses: Lulus.com, $9
The Springy Shirt
Sure, a hot pink sheer t-shirt screams party on a boat/spring break, but paired with black legging/pants, high heeled boots (with traction – lord knows how many times I've totally bitten in while wearing boots with a flat bottom) and a long black cardi, you can wear this on any night out, all winter long. Pair with some fun bracelets (or other chunky jewelry) and let the pink be a fun bright pop of color on a cold, dark night.
Tee: Express, $29.50
Leggings: Victoria's Secret, 2 for $40!
Boots: DSW, $49.94
Cardigan: Nordstrom, $24
Infinity Scarf: Nordstrom, $24
Bangles: Forever 21, $6.80
For the spring, tuck that tee into a high waisted skirt (or you could go with a pair of shorts, like these, which I LOVE), throw on some cute peep toe heels (these ones are adorable and CHEAP), swipe on a little bronzer and you are so spring ready.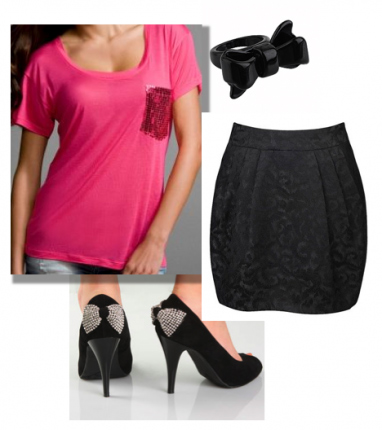 Tee: Express, $29.50
Skirt: Forever 21, $19.80
Heels: Lulus.com, $27.50
Ring: Forever 21, $2.80 (!!)