From our friends at College Candy: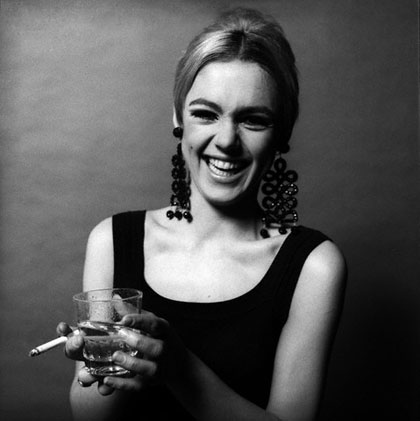 Who inspires your style? Or better question, WHAT inspires your style? Many of us use movie characters (like Penny Lane) or celebrities (like Leigh Lezark) as style inspiration, even though, most of the time, they are being dressed from head to toe by the best stylists. Which we don't have. And sometimes it's damn near impossible to work their Hollywood looks into our not-so-Hollywood lives. I've made it my mission to tap into the mind of a fashion stylist and show you how to take your style inspiration – whatever it may be – and make it more you!
Edie Sedgwick, best known for being one of Andy Warhol's muses, is my muse for this week. In addition to being a quadruple threat (actress, model, heiress and socialite), she was also known to be a major style icon. Although she is no longer with us today, her style still continues to appear as fashion inspiration from runways to sidewalks.
We are all shaped and fashioned by what we love to do and Edie exhibited that in her style. Many hours of her day would be spent practicing ballet and other types of dance, which would require tights and a leotard. Instead of changing after dance into a more typical outfit her time, Edie was known (and infamous) for throwing on a large (most likely fur) coat and going about her business. And thus it became her signature style.
Besides her very mod-styled outfits, she was also one of the first to spark the pixie hairstyle trend and was a pro at "cutting the crease" with her eye-makeup and seriously intense eyebrows. Now, it would be pretty difficult in today's day-and-age to walk out of your dorm/apartment with black lines across your eyelids, over-drawn eyebrows and a leotard without getting some gnarly looks, but if you go for a more subtle version of Edie's signature look, it can be achieved. And tres cute.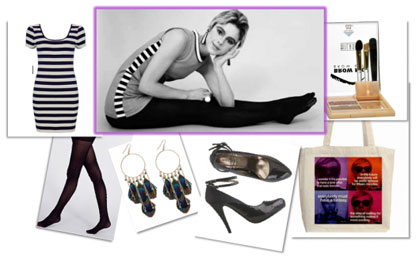 I like this outfit because it's a very modern and inexpensive version of Edie's legendary style. The fitted striped dress with the tights and the "shoulder-dusters" (or dangly earrings) are so typically Edie, yet can totally work on you. The Andy Warhol bag is thrown in for some novelty, and if you're bold enough to fill in your eyebrows like Edie, then Amen sister.
Earrings – Forever 21, $5.80; Black tights – American Apparel, $15.00; Striped dress – Forever 21, $12.80; Mary-Jane pumps – Wet Seal, $15.00; Milani eyebrow kit – Walgreens, $5.99; Andy Warhol bag – Beograund, $27.99