From our friends at College Candy: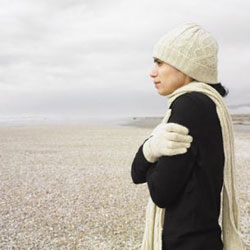 I get it. With winter carrying on for another 6 weeks (thank you, Mr. Groundhog) your life really does feel like Groundhog Day since you wear the same thing day after day…after day: jeans and a black top, or sometimes, if you're feeling a bit crazy, jeans and white one. After the novelty of a cute winter 'drobe wore off (like the 2nd week of negative temps and slushy snow), it's hard to put any effort into looking presentable and unique.
But after this article you will see that even if you keep your winter uniform intact, you can make it look like you really cared and make a ordinarily boring 'fit ready for any occasion just by adding a few fun accessories. And you can do it all for cheap. I've said it once and I'll say it again: accessories are the BEST way to revamp an outfit, create a look, change it up, or try out a trend without breaking the bank.
Winter Uniform #1:
Jeans, White Tee and Sweater
I LOVE pink and grey. With this adorable headband drawing the eye up, no one will even notice that you wore that EXACT same outfit yesterday. Throw on some fun bangles, a pretty necklace and – presto chango – you just want from drab to oh-so-fab.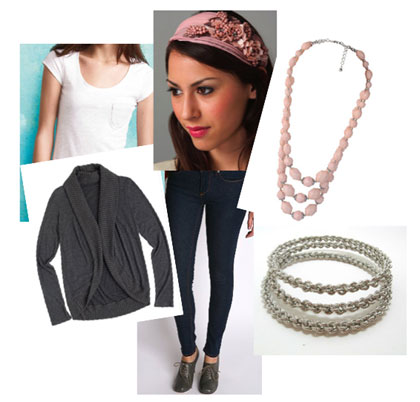 Jeans: Urban Outfitters, $54
White Tee: Delias, 2 for $20
Cardigan: Delias, $39.50
Headband: Lulus, $28
Necklace: Forever 21, $6.80
Bracelets: Anique Michelle, $12
Winter Uniform #2:
Black and Denim
Ah, black. So versatile. So easy to work with. You can dress this look up with pumps and a clutch, or dress it down with Uggs and a tote. The key is big, bold accessories. This necklace is great because it's dressy and ties in perfectly to the black-on-black top combo. And that ring, sigh, is to die for. It's the easiest way to completely change this look. Just make sure not to go overboard with the accessories. If you do a bold necklace, stick to more toned down earrings and rings. If you wanna rock a big ring, choose a more basic necklace.
Remember: you want to accessorize, not be a walking jewelry box!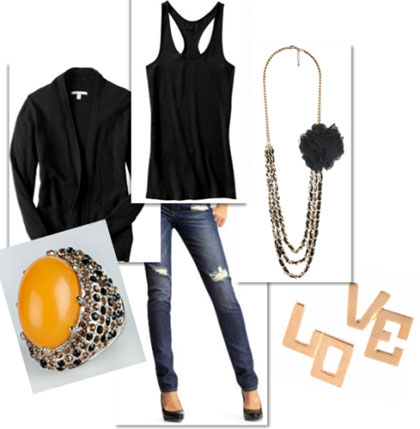 Jeans: Gap, $69.50
Cardigan: Old Navy, $29.50
Cami: Old Navy, $10.50
Necklace: Forever 21, $10.80
Earrings: Forever 21, $3.80
Ring: Charlotte Russe, $8.50
Winter Uniform #3:
Good for Any Outfit
Throw on the scarf, necklace, earrings or ring with ANY solid color ensemble, jeans or leggings, and out you go! My vote is for the circle scarf – cozy AND bright. And these bracelets are SO cheap you can buy 5 and layer those bad boys up!