Are you comfortable wearing bright colors? Is your closet filled with garments in varying shades of black and grey? Or, does it more closely resemble a rainbow? Some people shy away from bright colors, but they can actually work really well when paired with the right items. Neutrals like beige and caramel perfectly compliment the boldness of a bright hue.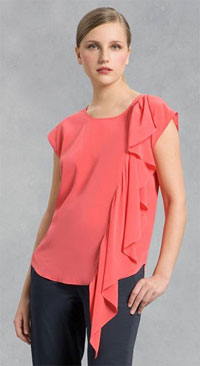 Universally flattering, Coral is a bright, cheerful color. I love this pretty peachy coral blouse from DKNY right down to it's feminine ruffle. It is a great blouse because it can be worn casually (as seen below) and it can also be dressed up with a pencil skirt for the office. See how you can take a bright item, like this coral blouse, and build a Spring outfit around it that even the most color-shy can be comfortable in.
1) DKNY Rouge Blouse With Ruffle ($160)
2, 3 & 4) Gold jewelry, like Gorjana' Arc Hoops ($60) and Chloe Ring ($95) bring out the richness in the caramel accents and pair so well with brights. The caramel color La Mer Collections Snake Wrap Watch ($100) echos both the color of the clutch, and picks up on the blouse color as well.
5) A soft, oatmeal colored cardigan like this one by Inhabit ($288) can be worn over the blouse when temps get chilly.
6) Straw is big for spring and summer, and the ALDO Niesen Flap Across Body Bag ($62.76) has a soft weave, making the bag appropriate for day and evening.
7) Slim fitting chinos like the James Jeans Trumph Tapered Leg Trousers ($172) offer a flattering fit in a casual look. The pants can be worn long or rolled up to be cropped.
8) Finish the outfit with a pair of wedge sandals like the Maleena by Coach ($198) Bold but not at all chunky, I love the sexy ankle strap. Plus, get free shipping on these!
What do you think? Do you like to wear brights? Or are you more of a neutral-palette person?
Get the latest from Skinnypurse.com by following us on Twitter and FaceBook.