From our friends at The Find: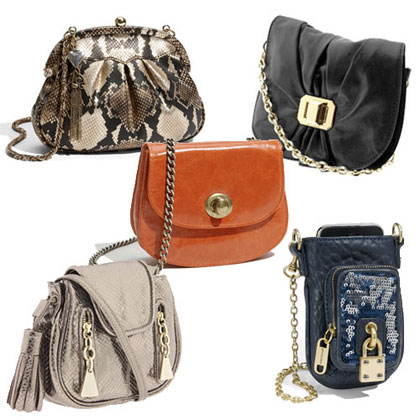 Believe it or not, "spring cleaning" doesn't apply to just your house. 'Tis the season to empty out your oversized slouchy hobo and rid yourself of all the clutter you've been lugging around. No, no, you don't need 9 different lip glosses, 6 compact mirrors, and 3 years' worth of receipts — it's time to embrace the carefree nature of spring and get that burden off your shoulders, literally! This season's mini crossbody pouches may be really small, but they're mighty in style, and they carry everything you'd ever realistically need — your phone, essential cards, a little cash, and maybe a lip gloss for extra touch-ups — and with their crossbody straps, they're totally hands-free too. Plus, with their tiny size, you can more easily get away with bold prints, bright pops of color, and a lots of glitz! Admit it — it's about time you lessened your load, even if it's just for an excuse to rock one of these cute minis!
Pictured above: Rhythm & Rhyme Charm Embellished Crossbody Bag, Juicy Couture Riviera Crossbody, Hobo International 'Holiday Vintage Aster' Mini Bag, See by Chloe Cherry Mini Crossbody, and Alexis Hudson 'Jerry' Leather Case.
– Alex Gambardella