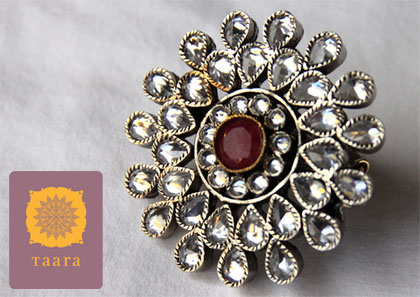 In 2009, designer Megha Jain quit her job at Morgan Stanley and moved to Hong Kong to work on Taara Jewelry, a line of opulent statement pieces. Inspired by the Mughal Empire, each item in the Taara Jewelry collection was designed with kings and queens of Rajasthan in mind. From luxurious oversized cocktail rings, to crystal-encrusted drop earrings, Taara jewelry is the perfect accent a formal gown or a little black cocktail dress.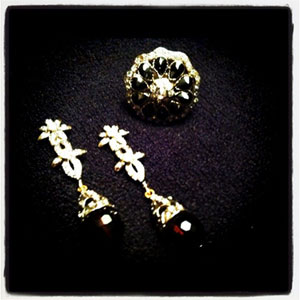 Megha sent me a couple items to review and I've been loving them! The first is a gorgeous large cocktail ring, with crystals and deep grey pear-shaped stones. It is the quintessential cocktail ring – one that adds a bit of fancy to any outfit. I also received a pair of crystal drop earrings, punctuated by lavender stones – so pretty, and the perfect length with my shorter haircut. Megha carefully chooses the gemstones used in her collection, just as much for the design as for their healing powers.
Megha now designs her jewelry from her home in NYC. She combines luminescent gemstones and rich metals create Taara Jewelry. I caught up with Megha and she answered a little Q&A, below.
SKP: How did you get your start designing and creating jewelry? Megha: I started Taara in Hong Kong. I had quit my banking job at Morgan Stanley in New York and moved to Hong Kong. I wanted to be able to show off my background and heritage in a creative way and saw that many people deemed Indian jewelry as "traditional." I wanted to make it more modern, fun and wearable and show young women that you do not have to be wearing a sari to have on Indian jewelry. I was lucky to be surrounded by very creative people who pushed me to explore this idea I had. Taara started as a very small operation. I was sketching and selling pieces from my apartment to friends and acquaintances. Hong Kong is a small community and luckily, word spread fast!
SKP: What was the inspiration behind your line?
Megha: My very first collection drew from the name Taara. Taara comes from the Sanskrit word "Sitaara" which means stars. This first collection had a star image that tied everything together. In 2008, I took a trip to Jaiselmar in Rajasthan. I went with two of my best friends and was blown away by the clear sky and how bright the stars shown. We were in the middle of a desert and it was so peaceful and quite, a nice change from the noise in Delhi. This memory stuck with me and inspired my first collection.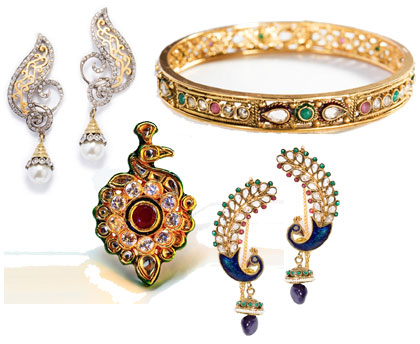 SKP: How do you come up with your designs?
Megha: I like to design chunky statement pieces that help pull together an outfit. Each piece is meant to be worn by itself and really stand out. I like to design based off of various memories I have of childhood trips to India, different color stories and photographs. These three things combined help me when I sketch.
SKP: What type of woman do you design for?
Megha: I design for women that are world travelers and are not afraid to wear big, statement pieces. They are confident and forward-thinking and appreciate the memory behind each piece and the story behind each stone.
SKP: What are some jewelry trends that we are going to see in upcoming seasons?
Megha: Turquoise is coming back into fashion and I have incorporated spotted turquoise into many of my rings. I also am enjoying playing with clear crystals. When the light hits them, the eye can play tricks on you and the crystal reflects various colors. This image is beautiful.
SKP: What is next for you and Taara jewelry?
Megha: I have finished my Fall 2011 Collection which is called the "Lucite Gems Collection." I am now working on some various shades of blue. Navy blue is a color that you do see in Indian jewelry but lighter shades like periwinkle and cobalt are not. I am working on incorporating those colors into my next collection.
SKP: If you had to describe the Taara collection in 3 words, what would they be? Megha: Intricate, Bold and Splashy
SKP: What is your favorite piece in your collection?
Megha: My favorite piece is one of the bracelets from my Lucite Gems Collection. I love the enamel work on the underside of the bracelet. The whole bracelet is gold with white crystals but that little pop of color on the underside of the bracelet is very seductive to me.
SKP: What materials do you use to create your jewelry and where are the pieces crafted?
Megha: All my pieces are made in Jaipur and China. I use 22k gold plating for most of my pieces and I work with various semi-precious stones and glass stones. Crystals are a must as well! I have spent time studying the history behind each stone I use, something I felt was very important to customers while I was living in Hong Kong. The healing power is something that attracts people to certain colors and stones. Some favorites are garnet, topaz, malachite, green onyx and black onyx.
Taara Jewelry can be purchased at a variety of local boutiques and online at MaxandChloe.com.