From our friends at The Find: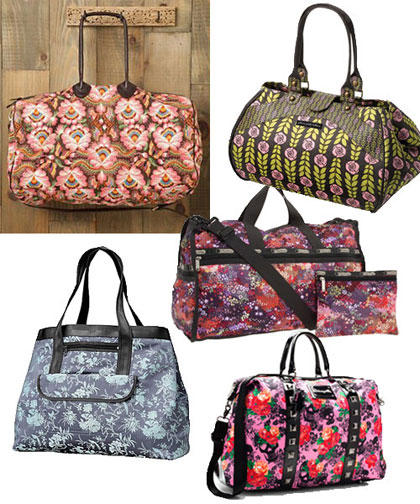 If these April showers have you impatient for some warmer, sunnier mid-spring weather, you're not alone. But why wait for the May flowers to arrive? Pack up and enjoy the weekend somewhere decidedly more spring-festive… and there's nothing like some floral duds to get you in the mood for the season! While your regular go-to handbag or satchel is potentially better left print-free and classic, weekender bags are all about embracing fun patterns and less practical prints (after all, aside from coming and going, it rarely leaves the room!), so feel free to go all out with the festive florals and fun colors! LeSportsac is all about the bright nylon patterns (not to mention durability… and lots of handy inner compartments for everything you'd need on a weekend trip), while this Petunia Pickle Bottom tote, available at Nordstrom, is not only flowery but it's eco-friendly to boot!
Pictured above: Rosemallow Weekender at Free People Clothing Boutique, Petunia Pickle Bottom 'Wistful Weekender' Organic Cotton Tote, >LeSportsac Large Weekender, Betsey Johnson Skulls Lace Weekender, and Athleta Om Weekend Tote.
– Alex Gambardella