Veronica M clothing is a line of feminine, wearable clothes by designer Veronica Monroy-Ferrer. Known for using soft fabrics in vintage-inspired patterns, each piece in the Veronica M collection is one that will last many seasons. We love the soft, drapey fabrics and colorful prints.
Veronica M clothing is offering Skinnypurse readers 20% off any purchase with code: SkinnyPurse20 at checkout. Offer is good from Monday, January 18th – Sunday, January 24th. Happy shopping!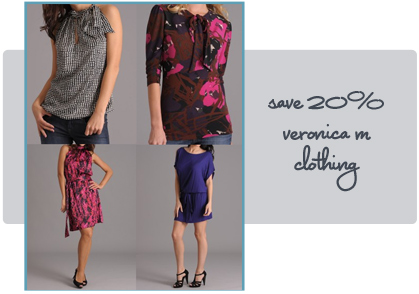 Clockwise from top left:
1) Tie Neck Tank, $60. A fun black and white pattern is what makes this sleeveless top great. Wear now with a jacket and pants and later with a summer skirt. So adorable.
2) Key Hole Top, $64. A flattering top that drapes beautifully. The pretty keyhole detail and tie neck would work well with dressy slacks and a blazer. 3) Slit Sleeve Dress, $98. This adorable slit-sleeved dress is worthy of your next casual cocktail party. Can be easily dressed up or down.
4) Halter Tie Dress, $94. We love the style of this halter tie dress – uber-flattering on anyone. Available in many prints and solids, this is one dress that is truly versatile.