This giveaway has ended. Thanks for your submissions!
Update: Lucia K Jewelry has generously offered to also give away the beautiful matching Caroline bracelet, along with the necklace! See photo below. What a fun jewelry set, perfect for Spring!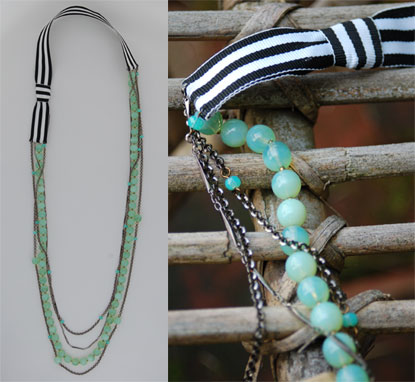 A few months ago, we told you about Seattle jewelry designer Kirsty Papadopulos, and her Lucia K collection. Inspired by past generations, Kirsty has created a beautiful jewelry collection, using ribbon, silk fabric, pearls and gemstones.
We are thrilled to be partnering with Kirsty to give away one of the gorgeous pieces in the Lucia K collection. Straight from the Spring 2011 collection, the Caroline necklace is made from green Czech Glass Beads, Natural Brass and Gunmetal Chains. A hand tied striped Grosgrain Ribbon inspired by a man's neck tie finishes the look. The grosgrain stripes and green stones are an updated take on preppy luxe. This necklace is the perfect compliment to outfits casual and dressy alike.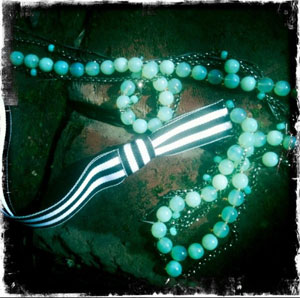 Here's how to enter to win your own Lucia K Caroline Necklace.
1) Like both Skinnypurse and Lucia K Jewelry on Facebook. (Leave a comment below letting us know you 'liked')
2) Leave a comment on the Skinnypurse Facebook page telling us what you would wear with the caroline necklace.
One lucky reader will be selected via Random.org and winner will be announced on Tuesday, April 12th, 2011.
Please note: This giveaway runs from Monday, April 4th, 2011 until Monday, April 11th, 2011. Open to US residents only. Good luck!
This giveaway is also featured on Free!Grechen
Lucia K Jewelry is available online at Endless.com and Amazon.com, as well as local Seattle boutique Far4.
For more information about the collection, visit Lucia K on FaceBook and follow on Twitter.