From our friends at The Find: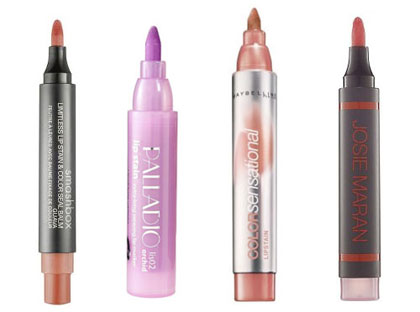 While I'm admittedly more of a lip gloss collector myself, I definitely understand the appeal of lip stains. They give that perfectly imperfect flush of color without the heavier, color-concentrated look of lipstick, like you've just eaten a handful of berries or been given one heck of a kiss! However, I also appreciate precision when it comes to makeup application, and let's face it — while effortlessness is part of the point, some lip stains just apply a little too unevenly and can come off a little blotchy or messy. Er, not cute. After all, the idea is to just look effortless and natural, and we beauty fiends know that achieving the perfect not-trying-too-hard style requires just slightly more effort than it looks. That's why I love the concept of felt-tip lip stains. Taking a marker to your lips is a strange idea, I realize, but the result is stunning since it gives you just the right amount of control and precision for easy application, but with the same sheer, buildable wash of color. Just make sure to channel your former kindergarden spirit and take good care of your new lip markers — these lip stains dry out fast if left uncapped, just like your old Crayola stash from back in the day!
Pictured above: Smashbox Limitless Lip Stain, Palladio Lip Stain, Maybelline Color Sensational Lipstain, and Josie Maran Magic Marker Lip & Cheek Stain.
– Alex Gambardella