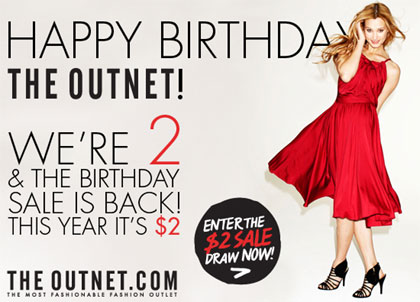 Remember The Outnet's Birthday Blowout Sale last year? People were scoring major deals on couture – at $1 per item! Well, they are doing it again this year! The OUTNET is turning 2 and to celebrate they are holding a $2 sale on April 15th. There are only 2,000 tickets and with over 2,400 designer items priced at just $2 each, it's an opportunity you will not want to miss!
Enter the $2 Sale Draw for The Outnet's 2nd Birthday Blowout here! Enter once between April 4th and April 12th. Every day 200 winners will be picked at random to win a ticket to the sale on April 15th.
Want more more chances to win? Get your friends to enter and you could win a ticket – the top 200 sharers will automatically receive a ticket. TheOutnet.com is also giving away 20 prizes of $200 store credit and all those who enter the draw will receive free shipping. Everyone's a winner!