Last month, I shared some photos of my mother from the 1960s in my Mother of Style post.
I wanted to share a reader submission with you. Michelle, graphic designer, illustrator and photographer, sent in this beautiful photo of her mother surrounded by her four lovely children. She also included the following excerpt, which was written about her mother (Mrs. Poole) in a published memoir by Norton. The memoir was called "Waiting for the Apocalypse, a memoir by Veronica Chater":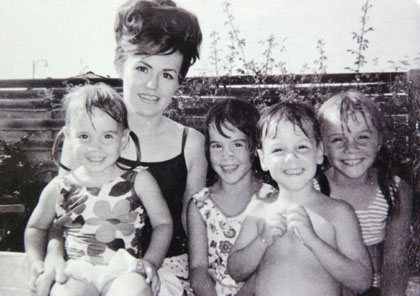 "And just like her house, Mrs. Poole is the opposite of Mom. Our Mom shouts orders like an army captain and uses a wooden spoon on our behinds for back-talking. Mrs. Poole asks her kids to do their chores with a hesitant whisper that reminds you of Marilyn Monroe, and cries real tears if they don't listen. And they don't listen very often, so Mrs. Poole cries a lot, and the chores never get done.
Our mom tucks the VW bug right into our driveway like a key in a slot. Mrs. Poole parks and re-parks her yellow Cadillac with the tailfins in her driveway four times, leaning hard on the gear shift like she's working a submachine gun and checking all the mirrors to get her mile-long car dead center.
Our mom dresses in clothes she can change a tire in, climb a ladder in, run and crawl in, and rescue a child from a burning building in. Mrs. Poole wears clothes that seem to make walking a chore, and would surely cause her injury if she were caught in a high wind. But there's a reason for high fashion. When you see Mrs. Poole walking down the street you think that any moment a limo will pull up and drive her straight to Hollywood where a famous director will make her his leading lady, because there is no bigger injustice than that much glamour going to waste."
From this vivid description, one can clearly see that Mrs. Poole embodied a classic glamour, similar to someone like Jacquie O. The comparison between the two mothers is great – both equally hardworking child-rearing women, yet totally opposite. I love that Mrs. Poole was a perfectionist (in her parking) and emotional, and on top of all that, she always looked good.
Trends come and go, but every closet should have some pieces that will remain timeless for generations to come. Here are a few ageless, ladylike pieces that would easily fit into anyone's wardrobe.
1) Classic Trench: A trench tops any outfit with grace – whether a jeans-and-tee combo or a cocktail dress and heels. The Banana Republic Classic Trench has all the right details for only $198.
2) White Blouse: Tucked into a pencil skirt, slacks or even shorts, a white shirt is timeless elegance. Erin Fetherston's Silk-Chiffon Blouse ($118.50), is silky, drapey and feminine.
3) A Signature Fragrance: For years, Yves Saint Laurent's Paris ($95) sat on my mother's dresser. The black and red bottle will remain in my memory and the scent will forever remind me of my mother. Every woman needs a signature fragrance, and anything from Chanel #5 to Loves Baby Soft goes!
4) Black Pumps: A feminine pair of black pumps are like jeans – every wardrobe needs a pair or five. The Christian Louboutin Pigalle Plato Patent Leather Platform Pumps ($695) have a pointed-toe and a classic shape.
5) Leopard Print: Will it ever go out of style? Over the ages, leopard print is one pattern that seems to resurface with a vengeance every year. From pumps to coats to dresses, a little bit of leopard goes a long way. Tolani Leopard Print Scarf ($90).
6) Big Sunglasses: Retro sunglasses always come back around, so if you have some do not throw them away! Prada's Rectangular Cat's Eye Sunglasses ($205) are classic and timeless.
7) Red Lipstick: Whatever shade you choose, a red lip is sophisticated and feminine. I love Dior's Rouge Dior Lipcolor in Blazing Red ($30) – it's a bright, tomato red that flatters so many skin types.
Do you have a photo of your stylish mother that you would like to share?
We would love to see it! Please email submissions to info@skinnypurse.com, with a 72dpi image attached. Please include your name, name of your blog or website (if applicable), and photo caption. We'll post submissions on a weekly basis and if yours is chosen, we'll include a link back to your blog or website.
Your submission will also get you automatically entered to win a special treat – winner chosen on Mother's Day (Sunday, May 8th, 2011).