From our friends at College Candy: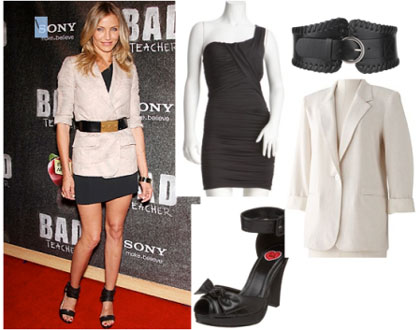 Cameron Diaz is usually not one that I look to for style inspiration. I mean, I love her as an actress and I totally respect her long-term commitment to environmental causes (she was going green far before it was the norm). As far as style goes though, I wasn't exactly putting photos of her red carpet looks onto my inspiration board. Maybe it's because she is so naturally gorg, and has this ridiculously lithe, statuesque body, she always seemed to go for really simple, unremarkable pieces so as to not detract from, well, her.
But perhaps the emergence of another blonde Amazonian goddess onto the scene has inspired Cameron to embrace her inner fashionista, because lately, she has been totally stepping up her game, going for a effortlessly sophisticated aesthetic that I loooove.
Find out how to get Cameron's look for less here!