We are into the current trend of thigh-high boots. But, in scouring the web looking for the perfect pairs, we've come across some that cross the line from chic to a bit trashy. So when looking for the right pair for you, remember these key points:
1) Heel Height: You may feel like a rockstar rocking those stiletto thigh-highs, but the reality is unless your Heidi Klum, you should keep the heel height under 5".
2) Material: Patent leather is great for handbags, flats and your daughter's mary janes, not for thigh-high boots.
3) Lacing, Buckles & Embellishments: Subtly is key here. One of those elements is nice, but don't get a boot with lacing, buckles and other embellishments combined.
4) Platforms: A sleek hidden platform up to about 3/4″ is good. An over-obvious platform says go-go dancer.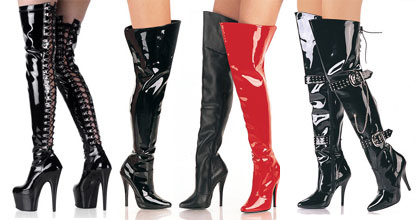 When in doubt a flat or mid-high heel works great. Also, wear your thigh-highs with jeans or leggings, not mini-skirts. Here are a few choices for thigh-high boots that won't leave you looking like it's Halloween.
1) Stuart Weitzman Hiho Thigh High Boots, $675
2) L.A.M.B. Junee Over The Knee Boot, $649
3) Stuart Weitzman Hilo Thigh High Flat Heel Boot, $650
4) Report Harper Boot, $134.99
*This post contains some affiliate links. See our disclosures for more info*