From our friends at College Candy: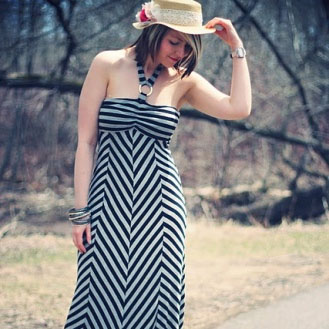 I have to be honest, I used to be a little scared of maxi-dresses. Okay, not waking-up-in-the-middle-of-the-night scared, but just a little nervous. They were always one of those trends that I thought looked great on other people – usually tall, gorgeous people – but I'd always been too nervous to try. I also wasn't really sure if they were my style. While I tend to keep things pretty girly, I also like to go a little edgy with lots of leather and blazers, and I'd always found it was girls with that effortless Nicole Richie boho thing going on that pulled the maxi-dress off best. Then, of course, there was the issue of length and height. I am average height, but I always consider myself a bit of a shortie and I was worried I'd be overwhelmed by this much material.
But then I decided to face my fears head on (and procrastinate studying for exams), so I got myself a maxi-dress and went to town in my closet mixing and matching pieces to make a ton of different looks. And much to my surprise, the dress was not only totally flattering on my body, but also a really versatile piece. You really can do so much with these dresses….the dresses that will now officially be my spring and summer staple (partly because it doesn't require me to shave my legs).
A little afraid of the maxi dress too? Find out how to wear it here!