Access to designer brands at discount prices has never been better with the advent of online sample sale sites. Love me some high-fashion at a discount! That's why we were thrilled to hear about BadJoan.com, a site that offers goods from indie designers at significantly reduced prices.
BadJoan.com gives you 24/7 access to shop overstock and past season items from up and coming designers as well as established brands. Shop for everything from dresses and jackets, to shoes and accessories, at any time of day or night – no membership needed. Shop lines like Beautiful People, Mike & Chris, Postella and more!
For a limited time BadJoan.com is offering an additional 10% off orders for Skinnypurse readers. Use code "SKINNY10" at checkout. Offer good through 12/29/09.
Here are some of our favorite picks on the site right now: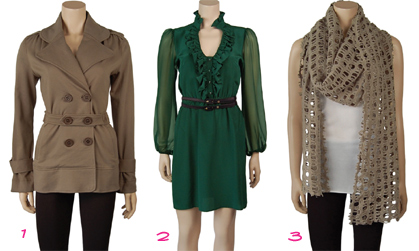 1) Mike & Chris: Short Trench Jacket in Clay, Regular Price: $225 – Bad Joan Price: $50
2) Postella Laura Dress, Regular Price: $250 – Bad Joan Price: $65
3) Beautiful People Net Scarf, Regular Price: $150 – Bad Joan Price: $35