From our Beauty & Style Editor, Theresa Johnston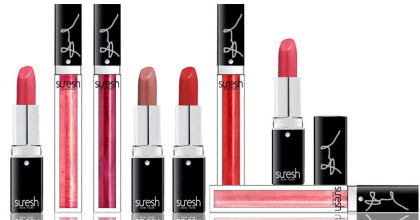 When Suresh did my bridesmaid makeup for a friend's wedding a couple of years ago, I looked ahhhh-maaa-zing. In what seemed like an instant, he expertly applied a beautiful makeup look that fit my face perfectly. I didn't look pancakey or clownish. I looked gorgeous. I looked like me. I felt confident. Needless to say, the experience was life-changing and I've been a huge fan of Suresh and his work ever since.
Not only is Suresh a talented makeup artist who has worked with countless celebrities, fashion photographers, and cosmetics companies, he's a men's grooming specialist and has his own line of dazzling lip glosses and lipsticks. If that's not enough to impress you, Suresh also provides makeup application lessons to those of us who are makeup-challenged. And did I mention that he's an incredibly nice guy, too?
Recently, I was able to catch up with Suresh. He filled me in on how he started Suresh Beauty, his latest projects, and what makeup trends we can expect to see this fall.
SP: Tell us about your background. How did you become a makeup artist? How did you start Suresh Beauty?
Suresh: I was studying Pre-Med at the University of Washington and decided that it wasn't for me. I wanted to work in a creative field related to fashion so at 19, I transferred to the Fashion Institute of Technology in NYC to study fashion design. During school, I worked part-time at the Estee Lauder counter as a sales associate and realized that the art of makeup came quite naturally to me. I then started assisting senior artists on-set for various magazines, photo shoots, fashion shows, etc. I immersed myself in art and learned as much about makeup as I possibly could. In 2002, I decided to open my own company. My aim was to offer high-end makeup services and start a line of cosmetics. I was 21 at the time.
SP: What (and/or who) inspires your work?
Suresh: Every-day women inspire the creation of my products. I love watching women apply their makeup. It's an art form all in its own. I get to see how they use the colors, how they interact with the packaging, how various textures affect application, etc. I'm also a huge nature lover. Nature is my inspiration when I do makeup for magazine editorials or cosmetics campaigns.
SP: Tell us about your new lipstick launch: LipLUXE.
Suresh: LipLUXE lipstick is fantastic. It's silky, lightweight, and sheer. I love sheer textures and think it's much easier to wear. It's handcrafted with finely crushed precious gemstones (diamond, ruby, amethyst, and yellow garnet). We use high quality Shea butter and mix in many antioxidants, including Vitamin E. We infuse the formula with 24K pure gold, chosen for its healing, protective properties. I believe that gold carries positive energy and promotes well-being. We have also added an exotic blend of Royal Jasmine and Tahitian Vanilla to soothe the senses. LipLUXE is completely vegan, paraben-free, emollient, hydrating, and lip conditioning.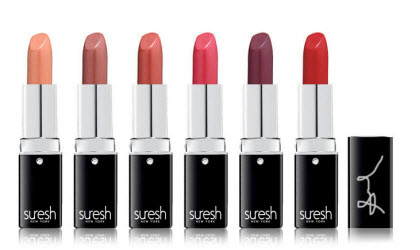 SP: If you were able to give only one piece of makeup advice to women, what would it be?
Suresh: Have fun with lip color! It's the easiest way to brighten up your face and change your look. Step outside your comfort zone and try a new shade, preferably a pink, plum, soft red, or mauve. Brown and taupe lip colors are for the dead, not for the living.
SP: What sort of makeup trends can we expect to see in Fall 2012?
Suresh: Plum lips, winged eyeliner, and full brows.
SP: What's next for Suresh Beauty?
Suresh: I'm currently working on a collection of nail lacquer that will debut later this year. I then want to introduce blush and bronzer.
Buy LipLUXE here. Learn more about Suresh and the fabulous services he offers here.
*Images courtesy of Suresh Beauty*