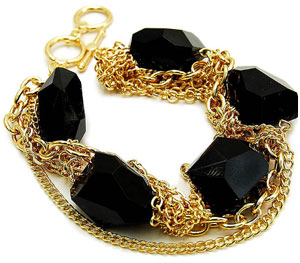 Bold Lucite stones and a mash-up of gold chains give the Jaseena Bracelet a designer feel. But at $31.95, it certainly doesn't have a designer price tag. The folks at FantasyJewelryBox.com recently sent me my very own Jaseena bracelet to try out, and I have to say, I kind of love it.
I tend to be very picky about my jewelry and am not one to get too costume-y with it. And while this bracelet makes a bold statement, it fits in with a lot of my other pieces. The multi-width twisted gold chains compliment both thin gold chain necklaces or a more chunky piece. I have worn the bracelet with both.
The faceted Lucite stones have a rough-edged, modern shape. The piece can be worn as effortlessly with a cocktail dress as with a pair of jeans and a t-shirt. The Jaseena bracelet is made from a brass base with a gold tone finish. The black and gold combination can be worn with any color. Although the stones are plastic, the bracelet has a nice weight to it.
I am also inspired to do a little DIY with the bracelet – it would be so cute as a necklace! All one would need to do is attach a longer chain to the ends.
If you are looking for a statement necklace, a fun cocktail ring or pair of party earrings, be sure to stop by Fantasy Jewelry Box. They do a good job of offering a selection of thoughtfully curated designer-inspired items, while keeping their prices low.
They offer $1.95 flat rate shipping (free shipping on purchases of $75 or more) Plus, right now you can get a free pair of earrings with purchases of $50 or more.