This giveaway has ended. Thanks for your submissions!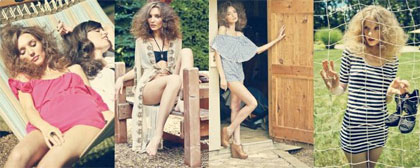 Meet me there…
6 Shore Road is quickly becoming a premiere source for beach-ready cover-ups and loungewear. The silky, figure-flattering items easily take you from day to night. If you are a regular reader, you may have seen our Designer Spotlight on 6 Shore Road, or actress Leven Rambin spotted in the 6 Shore Road Peek Away Dress.
Pooja Kharbanda, the amazingly talented designer behind the brand, shared a little about her style, as well as the inspiration behind the collection, in our Q & A below.
SKP: Tell us a little about how you got your start designing.
PK: Since I can remember, I've always wanted to create whether it was paintings, sketches or art. And growing up I had always seen my mom sew a lot of clothes for my sister and I which really sparked the initial interest. After many odd fashion jobs/internships I was completely passionate about starting my own brand and see where it would lead me… I love the beach and everything about it and with frequent trips to the Hampton's, I wanted to create a collection that could be worn from day to night & the beach to the bar.
SKP: How would you describe your style?
PK: My style is transitional, trendy, feminine and most of all fun! I like to wear day items at night and night items during the day…mixing it all up.
SKP: You were born in and raised in Hong Kong and Panama, and now live in NYC. How did the places you lived shape your designs or inspire you?
PK: Hong Kong is the New York of the East, so it's a very international & commercial city. Panama on the other hand has both a great city life and an amazing beach life that is very relaxing and vibrant. Living in NYC really brought everything I had experienced all into one city. Over the years, my style has developed from each of the lifestyles I had there and it's inevitable that you'll always see bits and pieces of each of the places in my collections.
SKP: If you had to describe the 6 Shore Road collection in 3 words, what would they be?
PK: Transitional, Comfortable, Effortless
SKP: What type of woman wears 6 Shore Road?
PK: I think dressing should be fun and incredibly chic, so I dress for the kind of woman who likes to be seen. A 6 Shore Road girl is a progressive and stylish girl who loves color and likes clothes to look good on her BUT is constantly is developing her style.
SKP: What is your favorite piece in your collection?
PK: I respond differently each time and it's always according to my mood. Obviously I love everything but right now, I'm feeling the Jane Birkin dress with the Gigi Moto Leather Vest from the Fall 2011 collection.
SKP: What materials do you use to create your clothing?
PK: I like to use different weights of silk & silk chiffon throughout. For Spring/Summer, I like to use a lot of cotton voile and light jersey – it's very breathable and light weight. For Fall wool jersey is amazingly warm and flattering to the body.
SKP: What is your current favorite fashion trend?
PK: I love the exaggerated wide leg pants.
SKP: What trend would like to see disappear?
PK: I wouldn't miss the bralette tops for some time!
SKP: How do you see the company evolving in the future?
PK: Right now, the line is right where we want it to be. Though we are constantly evolving, we are a contemporary brand that is about style. The line crosses barriers from season to season exploring the 6 Shore Road lifestyle.
Thank you Pooja, for taking the time to share a little about your collection and inspiration!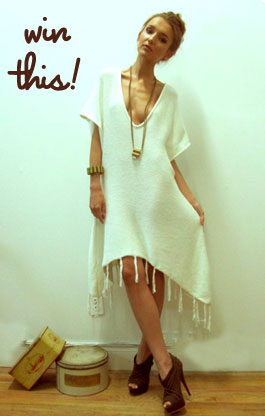 ****We are thrilled to be partnering with 6ShoreRoad give away a beautiful Bedrock Kaftan, the perfect swimwear cover-up. Oversized in the best possible way, this cotton kaftan dress with fringed trim looks as amazing over a swimsuit, as it does with chunky wedges and some fabulous baubles. One lucky Skinnypurse reader will win one of their own! Here's how to enter:****
1) Like both Skinnypurse and 6 Shore Road on Facebook. (Leave a comment below letting us know you 'liked')
2) Check out 6ShoreRoad.com and leave a comment on the Skinnypurse Facebook page telling us which item in the collection is your favorite.
One lucky reader will be selected via Random.org and winner will be announced on Friday, April 8th, 2011.
Please note: This giveaway runs from Thursday, March 31st, 2011 until Thursday, April 7th, 2011. Open to US residents only. Good luck!
This giveaway is also featured on Free!Grechen