Aren't beauty product samples fabulous? Other than their main purpose of "Try before you buy", sample-sized beauty products are perfect for tossing in a clutch when space is limited, or for taking on a trip. They are also especially great for travel now that there are stricter security laws prohibiting bringing full-sixed liquids on board. (I recently heard about a woman having to toss a full pot of Crème de la Mer pre-flight, not a happy moment!)
Sephora is now offering four wonderful sets of mini-versions of their best-selling products. From Skin Care to fragrance, they've got you covered.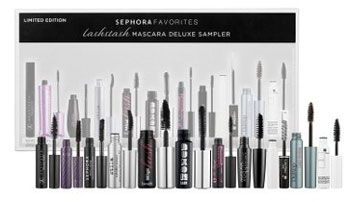 MASCARAS: We've all had the difficult task of choosing a mascara. It's so important to find one that doesn't clump or flake, and that stays on all day. Unfortunately, the trial and error part of the task can end up costing lots of money. Well, now you can try eleven of Sephora's best-selling mascaras in one set. The Sephora Favorites Lashstash Mascara Deluxe Sampler costs only $39, which is much less than what you would spend trying all the full-sized versions.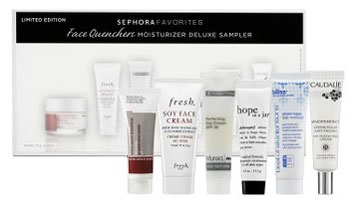 MOISTURIZERS: Does your current moisturizer leave skin oily or dull? Try 6 of Sephora's Favorites in their Face Quenchers Moisturizers Deluxe Sampler. Chances are you will find a good match for your skin. Modestly priced at $37, yet worth over $100 if purchased separately.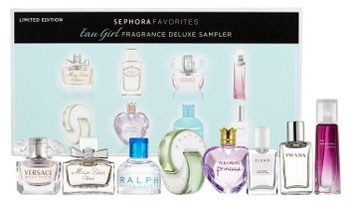 FRAGRANCE: It's fun to change up your fragrance – whether you are feeling flirty or romantic. If you want a seductive or a classic scent, Sephora's got you covered with their Eau Girl Fragrance Deluxe Sampler. Packed with 8 mini-bottles of Sephora's top selling scents, this kit lets you change up your fragrance whatever your mood may be. A great deal at $40!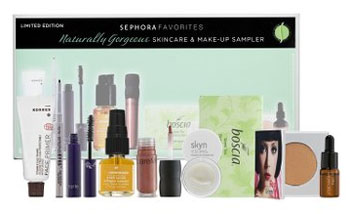 NATURAL COSMETICS: Probably my favorite of the Sephora Favorite sets, their Natural Wonders Sampler is packed with 9 best-selling natural skin and beauty products (valued at $111). For $40, you are doing something good for your skin and for the environment.