Spring is the perfect time to brighten your look with a pop of color. Fresh details can take your wardrobe from 'blah' to 'ahhhh' in one simple step. Nyla Noor, launched their collection early this year. This coveted line of designer handbags, made from eco-conscious leathers, is now available in brand new colors that are perfectly on trend for spring.
Exclusive Deal! Skinnypurse readers Save 20% on Nyla Noor bags with code "Skinnypurse at checkout. Shop online at NylaNoor.com. New colors included! Offer good through 4/30/10.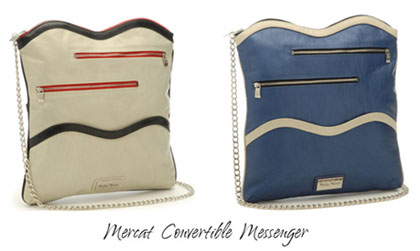 The versatile (it can be worn five different ways) Mercat Convertible Messenger just got a little more dramatic in colors like Oyster with Caviar Trim and Azul with Oyster Trim. The clean contrasting trim adds a modern update to this Nyla Noor favorite.

The uber-chic El Borne Hipster now comes in three new colors. You can now buy the bag online in Sangria, a deep red previously available on the Port Vell Satchel and Hobo Nouveau.
Bright Lipstick red gives the El Borne Hipster a stunning makeover. This bold hue would look amazing with everything from neutrals to bright colors. And of course, it pops against black.
Finally, the El Borne is available in our favorite new color, Denim, with Caviar trim. Denim leathers are huge this season, and we want this on our hip right now.
Romaana and Saifra Zia, the design team behind Nyla Noor, have been hard at work choosing new colors to go with the season. It's been exciting to watch how this collection has evolved, and we will continue to keep you posted on the latest in Nyla Noor handbags.
Nyla Noor handbags can be purchased online at NylaNoor.com. Don't forget, you can save 20% with code "Skinnypurse" at checkout!