*Images from Oribe.com*
Acclaimed hairdresser to celebrities and models alike, Oribe has a portfolio that began over thirty years ago and has been hot ever since. His work includes covers of Vogue, W magazine editorials, Chanel advertising campaigns, and much more. It's only natural that he and his team have developed a line of luxurious hair care products available at fine salons and online.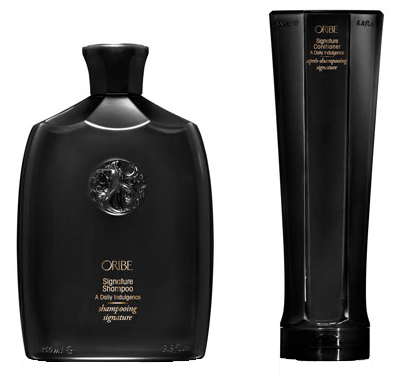 I had the opportunity to take home the Oribe Signature Shampoo and Conditioner after my hairdresser used some Oribe products on my hair a couple times. My first impression of the product line came with the beautiful scent. A hint of citrus, the light scent stays in your hair all day, without being overpowering.
The packaging of Oribe products is exquisite. Sturdy crème boxes house dark plastic (in this case black) bottles emblazoned with a gorgeous logo. Gold print describes the product. My hairdresser explained that the bottles are made from recycled plastic and can be fully recycled. (A plus for me). Most (not all) of the ingredients natural. Though the shampoo does contain sodium laureth sulfate, it also contains tons of natural plant ingredients that are good for your hair.
The messaging on the bottle is all about "indulgence". I don't know about you, but when I am shampooing my hair, it's hard to think about indulgence. I'm usually thinking about what's on my to-do list, or what my 2-year old is getting in to during the 5 minutes I take for myself to shower…Anyway, it's a pleasant message nonetheless.
About my hair type – I have fine hair, but a lot of it (if that makes sense). I definitely need hair products that strengthen hair since I highlight regularly. I also love a good conditioner to keep it manageable. I was told to use just a small amount of shampoo at once – that a little goes a long way. However, I found that the shampoo did not lather well unless I used twice as much. This was disappointing as the shampoo is expensive. I found that I could use much less of the conditioner though. Both the 8.5 fl oz bottle of shampoo and 6.8 fl oz of conditioners did last for a long time.
The result: I love the way my hair felt and managed after using both the Oribe Signature Shampoo and Conditioner. It definitely softens hair and makes it easier to style/comb through. It truly is an indulgence. These are the products I reach for when I feel I need a hair boost. While I don't think I will purchase the shampoo again, because I had to use so much, I would most likely get the conditioner.
Where to buy:
Oribe products are available at fine salons as well as online at Oribe.com or Bigelow Chemists:
Oribe Signature Shampoo, $29
Oribe Signature Conditioner, $34