Jumping on the bandwagon of Looklet and Polyvore, Nordstrom has created their own "Fashion Mixer" that allows you to mix and match items from their fall collections. It always helps to see how pieces will fit together before you buy them. You may visualize a handbag going great with a pair of shoes, but in reality, it doesn't. Nordstrom's Fashion Mixer helps with this. You get to choose from Nordstrom's handpicked selection of their key pieces for fall, which include the boyfriend blazer, leggings, pencil skirt, sheath dress, pretty blouse, long cardigan, studs & chains, and all-season sandals.
Once you've created a look, you can easily drop items into your online shopping cart. They even offer a feature where you can purchase an item online and pick it up in store. Now that is convenience. Here's the outfit we came up with: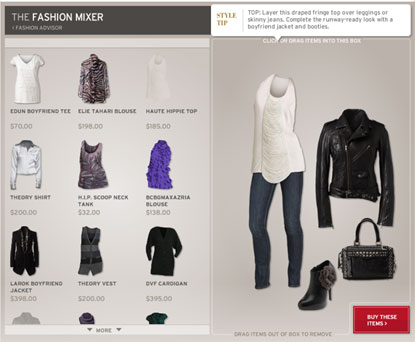 The selection is not very large – just a few items they are highlighting for Fall. But we hope this becomes a more permanent fixture on Nordstrom.com to help assist in the online shopping experience for each season.