One of our favorite online shopping boutiques recently launched a new Web site. Shopbop.com has a new look and feel, plus many new features to help make your shopping experience easier.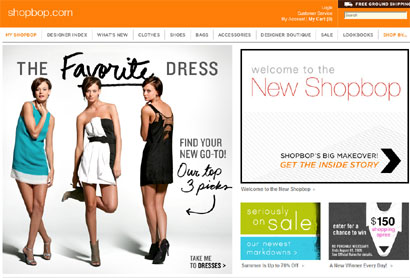 * They've made changes to the way designers and product categories are listed (no more scrolling)
* There is a better search capability, find items quickly and easily with menus that allow you to drill down your search
* Shopbop's ever popular Lookbooks are housed in their own easy-to-locate section
Our favorite two new features are the way Shopbop is helping customers find inspiration and shop for items specific to an occasion or a look they are trying to achieve:
* Dress for any occasion: shop by Black tie affair, Summer Wedding, Office, Weekend Essentials, etc, to find the perfect piece to help complete your wardrobe.
* Shop your style: What style are you? Bohemian, Casual Chic, Edgy, Girly? Shopbop has categorized products that fit in each look for easy shopping.
We love the new look and can't wait to get shopping! What do you think of the new site?