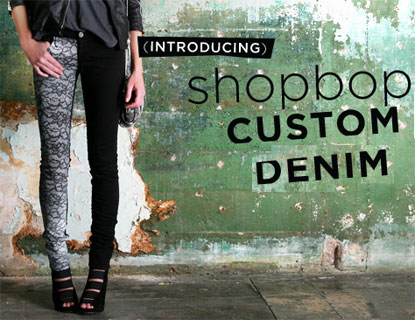 As the destroyed denim trend continues to flourish, countless designers have versions in their lines. But for the girl who wants to look a bit more unique, there is always the option of doing it yourself (DIY). Personally, while I have some creative ideas that I would love to see come to fruition, I don't have the patience to work and re-work fabrics until I come up with something wearable. I was extremely excited to learn about Shopbop.com's new undertaking – a line of custom distressed denim.
Two of Shopbop's amazingly talented Stylists, Bobbie Broeske and Morgan Wendelborn, worked on several pairs of jeans and denim shorts from Unknown Factory and Earnest Sewn. Using items such as bleach, cheese graters, razorblades and more, Morgan & Bobbie created 13 chic styles in their custom denim line. Read more about the entire process here.
I'm dying to get my hands on some of these – Love the white lace skinny jeans, the black and white pocket skinny crops and the skinny jeans with studs. From the looks of Shopbop's site, these styles are selling out quickly. The question is will Shopbop please make more?