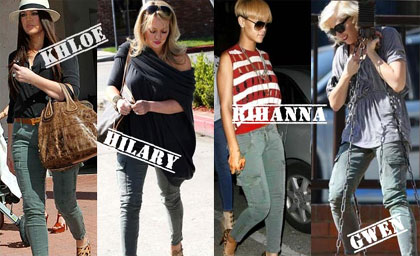 Khloe Kardashian, Hillary Duff, Rihanna and Gwen Stephanie have all been seen sporting this spring's trend of skinny cargo pants. The trendy shopping site, Boutiquetoyou.com recently showcased the above beauties wearing J Brand's Houlihan Skinny Cargo pant.
We have to admit, we are not such big fans of the look. You can tell a pair of cargo pants by their large, bulky pockets set at mid-thigh. Skinny cargos are at least more slimming as they are cut closer to the body. But still, there is added bulk on the legs which is not always the most flattering. Our take on the trend: If you like skinny cargo pants, try to find a pair that won't break the bank, like the Victoria's Secret pair below. Wear them with a casual top – oversized or slim fitting – as the celebs are styled above.
Stores and online boutiques are selling out of the J Brand Houlihan Skinny Cargos faster than I can type this. So, obviously some people love the look! What about you? Do you like this trend? Will you be looking for a pair of skinny cargo pants anytime soon?
Some skinny cargo pant options:
1) J Brand Houlihan Skinny Cargo Pant, $230
2) Ralph Lauren Swat Cargo Pant, $225
3) Joie Mondrian Stretch Skinny Pant, $80
4) Alice + Olivia Distressed Skinny Leg Cargo Pants, $230
5) Victoria's Secret Skinny Cargo Pant in Stretch Twill, $49.50
*This post contains affiliate links. See our disclosures for more info*