Summer weather means sundresses and tanks become your go-to items for beating the heat. Unfortunately, this can present wardrobe challenges at times. When regular lingerie options don't work, these simple solutions will help solve your clothing dilemmas and keep you looking hot in the heat.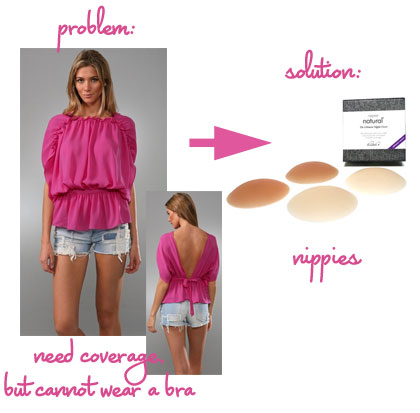 Dilemma: You Want Coverage without a Bra
Solution: Bristols 6 Nippies
A blouse like this one requires nipple coverage, but the backless detail leaves a bra out of the question. For tops like this, Nippies are your solution! Soft and flexible invisifeel silicon provides smooth coverage without lines. Available in colors to match any skin-tone, each set of Nippies is reusable. We raved about Nippies previously, and still love this fabulous fashion solution!($23.99)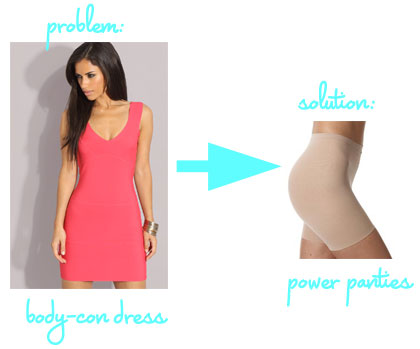 Dilemma: You Want Extra Slimming for a Body Con Dress
Solution: Spanx Power Panties
Sleek and smooth, the body con look shows off all of our curves, so a little extra help to look your slimmest is a bonus. Spanx Power Panties are the answer. Rather than squeeze into an old-fashioned shaper, Power Panties are made from soft nylon/spandex, and are comfortable to wear all day or night. ($30)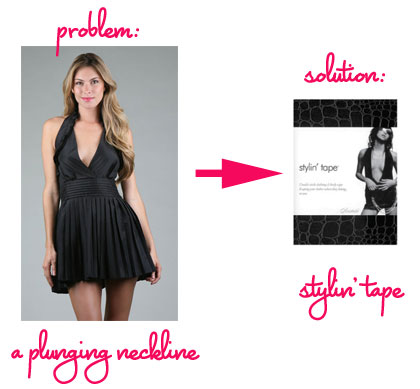 Dilemma: A Plunging Neckline Requires Strategic Positioning
Solution: Bristols 6 Stylin' Tape
Don't worry about wardrobe malfunctions when wearing a plunging necklines; Stylin' Tape will keep you in place. Made from high quality hypoallergenic adhesive, Stylin' Tape by Bristols 6 lasts for hours and is even sweatproof. ($11.99)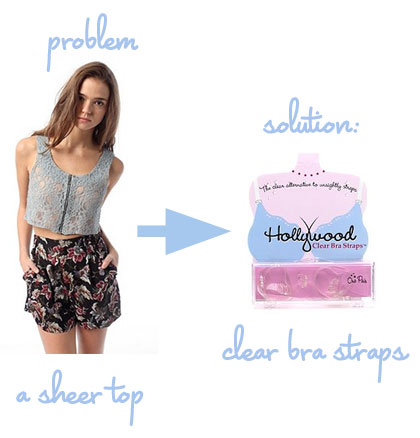 Dilemma: A Sheer Top Make Bra Straps Unacceptable
Solution: Hollywood Fashion Tape Bra Straps
Sheer fabrics and lace are perfect for summer, but that usually means you don't want bra straps to show. When a bra is necessary, but straps will not do, try Clear Bra Straps. They won't be seen under your top, but you will still get the support you want. ($7)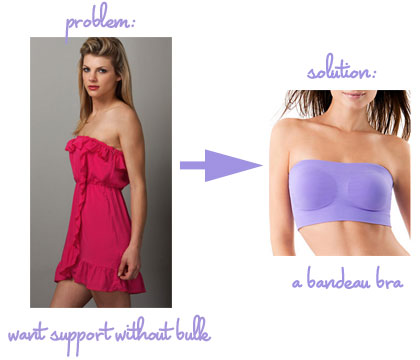 Dilemma: You Want Support Without the Bulk of a Bra
Solution: A Bandeau Bra
Summer's strapless dresses and tops sometimes call for support without the bulk of a strapless bra. A Bandeau Bra is a simple fix. This one by Annette offers wire-free support in reversible fabric that's available in tons of colors. ($34)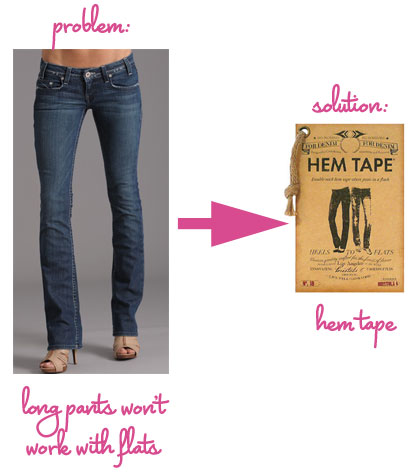 Dilemma: Long Pants Won't Work With Flats
Solution: Bristols 6 Hem Tape
Ok so not a lingerie solution, but definitely a helpful wardrobe fix! If you want to shorten a pair of pants without the commitment of a real hem, Bristols Hem Tape is your solution. Double stick tape allows you to easily go from heels to flats simply by taping up the hem. The tape holds tight, but removes easily and won't leave a residue. Perfect for giving you more options with your pants.