From our friends at The Find: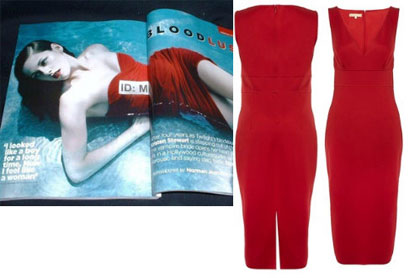 I know, not everyone likes Kristen Stewart but I highly doubt there's anyone out there that can deny the impeccable sultry and sexiness of a red dress. So, when I came across the spread of Kirsten Stewart in the latest GQ, in all her pale and perfect glory. I needed a heart-shaped, skin-tight stunner in my life and I just couldn't help but want to capture the allure of a dramatic red costume to own all on my own. After all, a red dress is a stylish evening staple that will be on trend for decades to come. The photos themselves definitely derive from the inspiration and influence of old Hollywood Glamour. Without a doubt, this GQ spread of the vampire starlet proved that her next role, as Snow White, is more than ready to be conquered. The waves, the water, the red lips. In fact, I'm quite sure she's pretty much going to own it.
For a Splurge: Vena Cava Red Silk Chiffon Dress
Take the ripeness of red to a whole new altitude of fashion with this draped and gorgeous red silk chiffon dress by Vena Cava. The movement will make you look like you're walking on a cloud.
For a Steal: Michael by Michael Kors Belted Shoulder Red Dress
Keep it a little more classic with Michael by Michael Kors Belted Red Dress. Belted and banded in all the right areas. It will no doubt accentuate all of your favorite assets.
– Mira Torres