If you were living in the 70's, chances are you had a gorgeous macramé plant holder, like the one below.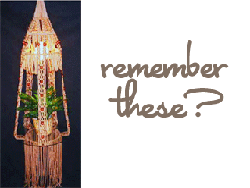 Macramé, a once popular form of textile-creation, uses many knots to create intricate designs. You probably won't show up much in current home decorating magazines, but you will see it in fashion. We are seeing macramé on everything from shoes, to dresses, to jewelry, and are loving the fresh spin on an old favorite.
1) ASOS Knotted Macrame Dress, $71.80
2) Diane von Furstenberg Liza Crochet Macramé Dress, $565
3) Beaded Necklace with Macramé, $18
4) Lanvin Bi-Color Wedge, $687.24
5) Knotted Beauclerk Shopper, $129.95
6) Undrest Halter One Piece, $168
7) Vanessa Bruno Macramé Belt, $251
8) Elizabeth and James Gypsy Macramé Sandal, $225. Free Shipping on shoes!
*This post contains some affiliate links. See our disclosures for more info*