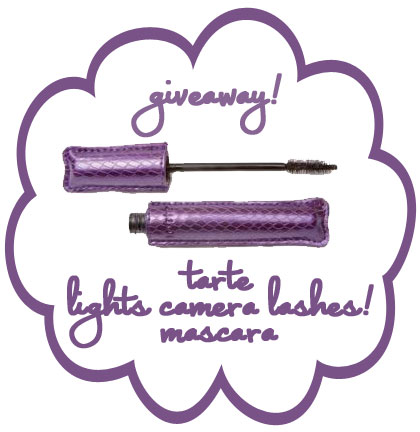 Mascara is one makeup item that I cannot leave the house without wearing. But with all the talk about chemicals in makeup that are not good for us, wearing makeup every single day can start to feel like it's doing more harm than good. Fortunately, there is Tarte lights camera lashes! mascara. It's natural mascara that really packs a punch, but does not contain harmful ingredients like parabens, phthalates and sodium lauryl sulfate. And with Earth Day being the focus this month, it's nice to know there are makeup products out there that are eco-friendly. Lights camera lashes! comes in recyclable packaging printed with soy ink.
Tarte makeup review: How does it work? With a single coat, Light, Camera, Lashes Mascara defines and darkens lashes, for a light, natural look that is so popular right now. For a bit more drama, add a few more coats of mascara. It not only coats and defines lashes, but it protects them as well! That's great news for those of us who love any reason to wear makeup! The natural mascara conditions lashes as you wear it and helps prevent breakage. It's 4-in-1 action lengthens, curls, volumizes and conditions eye lashes.
Tarte lights camera lashes! mascara contains carnauba wax for a smooth application, pure water to deliver moisture and provitamin B5 to retain moisture. It is dermatologist tested and clinically proven to increase lash volume by 424%.
We are excited to be giving away a tube of lights camera lashes! mascara to one lucky Skinnypurse reader.
To Enter: Leave a comment below and share why you want or need lights camera lashes! Mascara. (Please be sure to leave your email address, as that is the only way we can contact you to tell you you've won)
Each of these counts as extra entries:
1) Follow @Skinnypurse on Twitter
2) Tweet the phrase "I want to win Tarte's lights camera, lashes! mascara from @skinnypurse http://bit.ly/aSbj0a (Be sure to leave a comment back here letting us know you tweeted)
3) Subscribe to the Skinnypurse XML Feed. (Be sure to leave a comment back here letting us know you subscribed)
4) Link to this post on your blog or web site using this link. (Be sure to leave a comment back here with the link to your post)
One lucky reader will be selected via Random.org and win lights camera lashes! 4-in-1 clinically proven natural mascara.
Please note: This giveaway runs from Tuesday, April 20th 2010 until Thursday, April 29th, and is open to US residents only.
This giveaway is also featured on Free!Grechen
Note: This Giveaway is now closed.