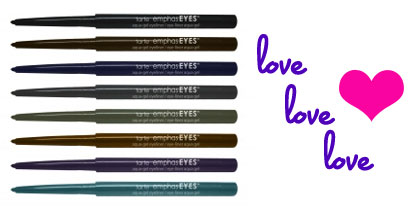 It's no secret that eyeliner can elevate your look. Whether you are going for some evening drama, or just to add some depth to your eyes for day, eyeliner can help. But, there is nothing worse than cakey eyeliner that drags on your eyelid, making it hard to apply. Enter tarte cosmetics: emphasEYES™ aqua-gel eyeliner. A gel-cream formulation glides on smooth and hydrates skin, leaving behind deeply pigmented, dramatic color. With water being one of the main ingredients in tarte's emphasEYES™ aqua-gel eyeliner, skin is left refreshed and moisturized. The formula actually cools on contact, and soothes skin with vitamin E, cucumber and aloe. Plus, the pigment is derived from mineral pigments, offering soothing results that won't irritate skin. I love the rich colors, offering plenty of options to achieve a different look each day. My current favorite is plum, I love the contrast with my blue eyes.
Tarte emphasEYES™ aqua-gel eyeliner retails for $18. Currently they are running a buy one get one free promo! Use code AQEYE at checkout. (Offer good through 7/31/11)
What is your favorite eyeliner?