Happy Shopping! Today we are browsing the virtual racks of sample sales for brands like J Brand, French Connection, Le Mystere, Elizabeth & James and more. Invites in links below.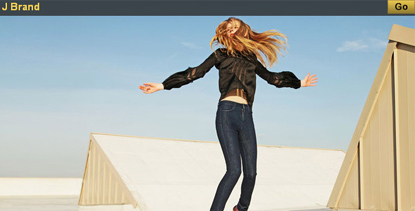 J Brand, Azaara Jewelry, Magaschoni, Manuel Canovas, Jil Sander, Just Cavalli Accessories and Hanii Y at Gilt Groupe
French Connection, Shih & Monserat de Lucca Handbags and Nicole Miller Jewelry at Gilt Fuse
Herve Leger, Elizabeth & James, Riedel, GoSmile, Lacoste (Women & Men), IWC Watches, Beyond Vintage and Designer Fine Pearl & Diamond Jewelry at Hautelook
John Hardy, Vivienne Tam, adidas Golf, Le Mystere, Staub Wed 12/16: Pink Tartan, Michael Kors – Home, Ben Sherman, Ben Sherman – Men's, Cinzia Rocca and kate spade – Home Boutiques at Rue La La
Liz Lange, Minimink and Teutonia Strollers Sales Wed 12/16: 100% Pure, David Aubrey & Z. Bigatti at Billion Dollar Babes
Emilio Pucci, Vix Swimwear, Lucca, Portolano Cold Weather Accessories, Versus Watches, Jeffrey Campbell Shoes and Matty M at Ideeli
Bugatti, Movado Watches, For Joseph, Gucci Ties, Body & Soul Cosmetics and Fendi Bags at Beyond the Rack
Campo Marzio, Gaia & Gino, Modern Twist, Frances Stoia and Nature at One Kings Lane
Versace Sunglasses and Holiday Cosmetics & Skincare sales at Editors' Closet.
In Cashmere and Vieta Handbags at The Top Secret
*This post contains affiliate links. See our disclosures for more info*